thanks again for all your help with my making everything so easy for me to understand and alk I had to do to buy my house

To all my fellow Vets. You earned it, now go get it. Vets Mortgage "Mission Accomplished".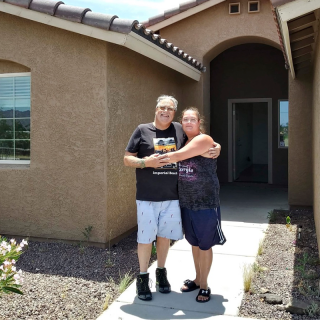 Travis ward was our loan specialist. He did absolutly more then we could ever have asked for he helped us understand what was going on with our loan and we did not have a thousand things to send in for our loan. The whole process went very smooth and quickly we started the process April 13, 2020 and closed May 13, 2020. Fastest home buying ever but worked out perfectly! We love our new home so much!


Veterans United is an excellent choice for your home loan needs. From their easy to follow, step by step, website to each person involved in my process. Veterans United made my transition extremely easy for my journey. Thank you VU for your exceptional efforts in this process, from my family to you.

The entire team were professional, friendly and very responsive. They made our home buying experience easy and less stressful. We will continue to recommend Veterans a United to anyone interested in purchasing or refinancing. It was a pleasure working with United Veterans team and especially Nathan Bitner.


Veterans United Home Loans provides the very best level of service to those who've served and continuing serving in our armed forces. If it's the first link you see when you google VA loans then rest assured you've come to the right place. The staff is is incredibly friendly, informative and dedicated to get you approved and in your home in 30 days! 10/10 service! Absolutely recommend!

You're next!
Join the ranks of our 200,000+ Proud Veteran Homeowners nationwide.
Super easy process. Very knowledgeable staff and very attentive. I'll never use another company while buying a house every again.


The name says it all - Veterans United - they are truly united into helping achieve their goal in buying you a house. It was my first time buying a home, and only issue I had was from a outside third party and VU was able to assist with that. I'm happy with the advice and assistance they have given me.








You're next!
Join the ranks of our 200,000+ Proud Veteran Homeowners nationwide.
Thank You!


The Veterans United team will work for and with you , getting you in that new home!!!

I was skeptical at first but Veterans United really helped me obtain my goal of getting a new home in the state of Arizona. Thanks again.


I just want to give a quick shoutout to Corey Jackson as well — he was our Loan Coordinator (I think that's the correct title? Underwriting coordinator, maybe?) and kept me up to date on everything that was happening. I looked forward to getting calls from him because he was such a joy to talk to! Super smart, professional, and kind - I can't say enough good things about this whole team!

I would recommend Veterans United to my fellow service members and veterans any day!

There were a few problems at the start. But the Veteran United team fixed them quickly and took care of us.

It has been an absolute pleasure to work with veterans United. We worked very efficiently together and I even got to close early! I'd recommend to anyone eligible. All my questions were answered in a timely manner And the overall experience was much smoother than my first home buying experience when I went through a different company. 5/5