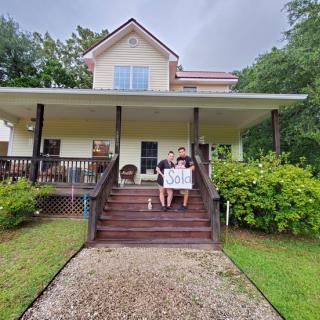 Process was simple and easy to get approved. Andy Miller was fantastic to work with. Was kept in the loop during entire process, and had everything explained to me in detail as I was a first time home-buyer. He made sure all of my questions were answered and never made me feel "rushed". Highly recommend

The team at Veterans United is outstanding from the moment you make initial requests through the entire home buying process, they keep you up to date and assist you with any questions you have. In all of my home buying experiences, the best lender I have had the pleasure to work with!


Don't recommend Kyle and his team.
Response from Veterans United
Claudio, thank you for your honest and direct feedback. We would like to open the door to our client advocate team to learn more about your experience. We strive to keep all of our loan teams accountable and equipped with the best tools available to provide exceptional customer service. Please feel free to let us know if there are any concerns you would like to discuss. We thank you for your service and thank you for choosing Veterans United.
I highly recommend Veterans United for all your home purchasing needs!!!









The team we had for this entire home buying process was outstanding. It was seriously less stressful buying a home then a car. I really can't believe how easy Veterans United and the personnel that work there made this. Buying our first home through BofA was an absolute nightmare with no communication and seemed like we were paying fees left and right. We new exactly all of the costs and what would be needed at closing. Also, the Realtor that VU had contact us at the very beginning was awesome. I highly recommend Veterans United and the teams they have in place are top notch and keep you up to date every step of the way. Thanks again

Very patient professional helpful full knowledge of veterans best interest.

I would highly recommend veterans United and have spoke to everyone I know about how seamless and easy the process can be . Thanks to you and your wonderful team , Shawn!!

You're next!
Join the ranks of our 200,000+ Proud Veteran Homeowners nationwide.
They made everything so simple and easy to understand as a first time home buyer. Kyle was always prompt with any and every question I had throughout the entire process. He's the best!





Tyler made the process surprisingly pleasant.




Veterans United came through again and got us a better rate and terms than our former current mortgage company for our refi.
We are repeat customers of Jake Hanson, he is personable, professional, and has the overall expertise to get the job done for you securing the financing you need to get your new home. You've heard of Jake from State Farm, well this Jake's even better!! Thanks Jake.