Mike, Brayden and the entire Team was outstanding. Great people to work with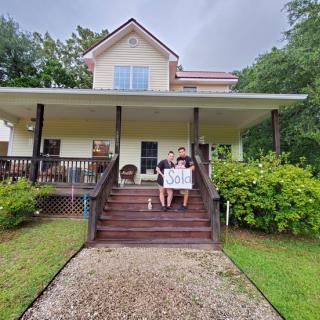 Process was simple and easy to get approved. Andy Miller was fantastic to work with. Was kept in the loop during entire process, and had everything explained to me in detail as I was a first time home-buyer. He made sure all of my questions were answered and never made me feel "rushed". Highly recommend


Please print my opening statement. Will not hesitate to refer. Five out of five stars.

I have purchased 4 houses through the Veteran's Administration and this was my worst experience.Thank you,
William
Response from Veterans United
Thank you for this information William. A member of our Client Advocate Team has left you a message and sent an email for additional details. It is our goal to promote accountability within our teams and consistently deliver an outstanding client experience. We are committed to finding out what may have caused you to feel this way and to ensure a better experience for future customers.



I enjoyed the process and would highly recommend Veterans United.


During the difficult times that Covid-19 has brought to this country, Andy Miller and his team were there to provide me with detailed guidance and assistance at all hours of the day and worked to secure me the best deal possible when it came to my home loan.

Our experience as a first time home buyer with Veteran United was smooth, painless and pleasant.
If you are a veteran, this is the team you want by your side to achieve your VA Loan.
I recommend them hands down anytime.

I would recommend Veterans United to any service members that may be looking for a new home.

Veterans United makes every super easy and does an amazing job explaining whatever you need to know about the whole home buying process.


The whole experience was good

Getting a mortgage can be a very tedious process and there are not so great mortgage companies out there. Veterans United was an absolute pleasure to work with. They got me a very competitive rate and made the whole process extremely smooth. I would not hesitate to come back to them again for my future mortgage needs. Thanks Veterans United!

You're next!
Join the ranks of our 200,000+ Proud Veteran Homeowners nationwide.

Helpful and knowledgeable easy going people that work with you instead of against you. Made my experience very enjoyable





The team at Veterans United is outstanding from the moment you make initial requests through the entire home buying process, they keep you up to date and assist you with any questions you have. In all of my home buying experiences, the best lender I have had the pleasure to work with!


Don't recommend Kyle and his team.
Response from Veterans United
Claudio, thank you for your honest and direct feedback. We would like to open the door to our client advocate team to learn more about your experience. We strive to keep all of our loan teams accountable and equipped with the best tools available to provide exceptional customer service. Please feel free to let us know if there are any concerns you would like to discuss. We thank you for your service and thank you for choosing Veterans United.
I highly recommend Veterans United for all your home purchasing needs!!!