This process could not have gone better. Great experience.

Nick Kundert and Veterans United supported me every step of the way. They made me feel like we are all family and it made the experience easy everything from loan process to home owners insurance was taken care of swiftly. Being a Marine Veteran and Nick also being Marine Veteran himself we instantly had that "esprit de corps" to get the mission accomplished. I can see that Marine core values never left him being a civi now. I thank Nick Kundert and Veterans United for the great support and making this whole experience a breeze. Semper Fi!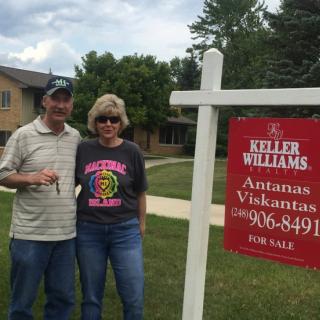 Billy was great! He new all the right questions to ask to get my loan approved in a short amount of time & was very prompt handling paperwork & answering the many questions I had. I would definitely recommend Veterans United & Billy. I think Billy did an outstanding job !!! and I appreciate his hard work.



No additional comments.

My loan specialist Billie Jones. Kept the wheels turning for us. He was always available to answer any and all questions.
We were fortunate to hook up with him.
Glad we were on the same team.


You're next!
Join the ranks of our 200,000+ Proud Veteran Homeowners nationwide.
Keep up the great work!

To all Veterans seeking a VA mortgage, I would recommend Veterans United hands down! If you have the opportunity, ask for Mr. Chris Holdman! You will not be sorry!


As first time home buyers my husband and I were clueless on the process and what to expect. Matt was there through it all. Answered even the smallest questions. He was very easy to contact and made the process painless and exciting!

Veterans United was professional and operated in a timely matter. They answered any questions I had and made the process smooth from start to finish. Thank you!






You're next!
Join the ranks of our 200,000+ Proud Veteran Homeowners nationwide.




Overall a good experience, especially having to do everything online. They made the process easy to understand and if it wasn't it only took a phone call or email to get things clarified. Every person I talked to from Veterans United wanted to help you.





Great working with VU. They are very fast at getting things done and make it smooth, not always fun doing this paperwork thing you know but they do work good with you. Would definitely recommend to others!