At first we had a different agent that VU referred us to, Jenni Goodin. It was almost impossible to get ahold of her and she cost us a chance at a potential property (which in the end worked out in our favor). After we drove in to Kansas City from Saint Louis and took time off of work, she never got back to us about scheduling viewings of other houses that we wanted to see. Then after a day and a half of trying to get ahold of her she finally sent us the following message (verbatim):"I spent a lot of time trying to weigh this out Darren and I feel like with the housing market like it is there's not very many available homes in any town that you and Samantha are looking at I don't mind doing Richmond Polo possibly Cameron but I cannot do Edgerton or Cleveland. ¿what's the price of gas going up it is 70 miles one way to Cleveland and pretty much the same to Edgerton from Richmond I don't want to stop you folks or hold you up any longer .¿I don't think that will allow me to do just part and another agent to do part I've never really experienced that with them.¿I'm going to email your veterans United team.¿¿I apologize and I thank you for your patience ¿¿"I would give this agent a 1/10 and WOULD NOT RECOMMEND her to ANYONE. The agent we eventually got (Terry Burks) is from Lee's Summit, MO which is ~50 miles away from our new home and was more than willing to come out as needed while Jenni is from the same town as the new home. Also, we would have understood if she had only told us that some of those houses that we had listed were outside of the range that she would work in, but she never communicated any of that with us as it she would not respond to any communication for hours/days.


I am telling all my brothers. From the corps and army. To give you guys a shout


The experience in purchasing our home was made easy and pleasant from working with Veterans United and i would highly recommend them.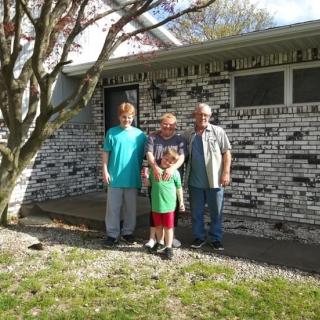 The whole process was easier than what I thought it would be. When the loan specialists would ask for something as long as I got it to them in a timely manner it all worked out well! Everyone I dealt with were polite and knew that this was our first time of trying to buy a home and they were patient!!! Absolutely LOVE LOVE LOVE our VU team!!!



Veterans United is the best home loans company I have worked with. They have hands down the best technology to help borrower out, but did not rely on that alone. What they had in technology was also match with their over the top customer service. Thank you VU!!!



You're next!
Join the ranks of our 200,000+ Proud Veteran Homeowners nationwide.
Great Experience!

We could Not be more pleased, someone was there through every step helping us.








I don't believe I would have successfully gone through the mortgage and home purchase process without the Veterans United team. Many thanks.

You're next!
Join the ranks of our 200,000+ Proud Veteran Homeowners nationwide.
Nichole and Danielle made my long distance home purchase feel like they were just around the corner... everything went very smooth.

It was an easy process and Veterans United was there every step of the way to help. So thankful for there services. I highly recommend any veteran looking for a home to go through Veterans United.




I would highly recommend going with a VA loan and using the team we had!

Our VU Team rocked this one!! moved closing up almost 2 weeks! -Thank you for all the help!

VU made the process painless and straightforward. I expected a long, drawn out, and painful process, but Robert and the whole team were excellent!


If your good with computers and don't mind doing everything over the net go for it but it was not a good experience for me and my situation. I was late closing because of the late appraisal which caused a chain reaction of problems for me and the move. This was my first home build and learned the hard way about it.
Response from Veterans United
David, Thank you for taking the time to submit this survey and inform us of your honest feedback. As an online lender, we have setup up user-friendly software to assist veterans with the process. We have teams that can assist when needed as well. We want to thank you for your service and thank you for choosing Veterans United.