Working with Veterans United has been very easy and non-stressful. The loan process is very structured to the point of point and click and upload to complete all requirements. Communication with our personal loan specialist was key to ensure everything would close on-time and under 30 days!
When it is time to move again, we will be sure to use Veterans United again.


Getting my loan through took a lot of work but the whole team was fantastic and worked hard for literally months to get it handled and i couldn't be happier with the end results.

Please make sure the property you buy is really what you want ask friends and family what they think.


Website and entire team kept me informed and helped me keep the process going

We were extremely pleased with our dealings with Veterans United in financing our new home. You will have an even more exceptional experience if you are lucky enough to get Dan Salter as your loan specialist. He is a true professional in all respects.


You're next!
Join the ranks of our 200,000+ Proud Veteran Homeowners nationwide.
The whole team did a fantastic job!

Veterans United is Amazing!

Kept me informed with the process. Work extremely hard to close on a house a week in advance to the planned closing date.

Would definitely go through veterans united again!

Veterans United helped us stay on track. They helped us gather all the information needed to complete the process. We were done, completed in less than a month! They are on top of things!


If you are a Veteran and what to be taken care of with no stress and absolutely easy process with nice people who actually care about you use Veterans United Home Loans. Hands down the best experience I ever had . I could not be happier I am so glad I went with this company . I would use them over and over again . They take care of their Veterans. I thought home buying was this big stressful situation and it was absolutely not. I love my new home and I couldn't thank Veterans United Home Loans enough especially John and Amber !!!! Thank you guys !!!!

Veterans United was not pushy and when I showed interest last year, they remained patient and allowed me to come to them. They did not send me countless text and emails, and when I was ready to make a purchase they helped me by providing me competent professionals who knew how to go about getting me what I wanted. I would recommend Veterans United to any Veteran who is ready to make such an important home buying decision. When you are ready, Veterans United is ready to help.



You're next!
Join the ranks of our 200,000+ Proud Veteran Homeowners nationwide.



Caleb Batson and Shay Goodman did an outstanding job! Every time I had a question or needed explanation on something they were both always there to help.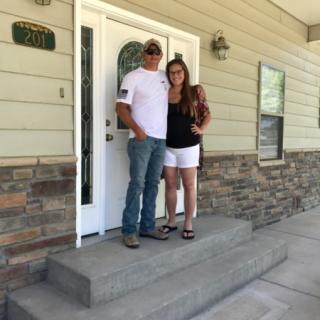 Our loan officer, Matt Istwan, was awesome. He went over & beyond all expectations we had. Matt was always professional, courteous, and knowledgeable during the entire process. I can't thank Matt enough for his help with financing our home, he made such a difference during a very stressful home search.

Bill and his team were very courteous and professional in dealing with all our questions as first time home buyer. The team at Veterans United worked diligently to process our loan quickly and effectively, making the process as smooth as possible. The website is easy to navigate and the teams are constantly working to make sure your loan is processed at the fastest and most effective rate possible.


Easy


This was my first experience purchasing a home. Dave Stoll and his crew were amazing. They answered all questions I had and usually within 30 minutes they would get back to me. I was walking into this blind with no home buying experience and they made all my decisions confident and felt like it was an easy task. I would recommend Dave Stoll and crew to any veteran or USMC crayon eaters that dont know anything like myself. Thank you for your help and your high dedication to your clients.