Words can't say enough about the people on my team that helped me get the loan. So thankful for all the guidance and hard work.

I would also like to recognize Morgan Crane who also assisted with our loan. She was wonderful.




You're next!
Join the ranks of our 150,000+ Proud Veteran Homeowners nationwide.
Yes I would recommend going with Veterans. United

I thought buying a home would be a very stressful experience. Our realtor Jason and loan team Sam, Ryan, and Kendal took that all away. They made everything quick and painless.



Overall very pleased with my experience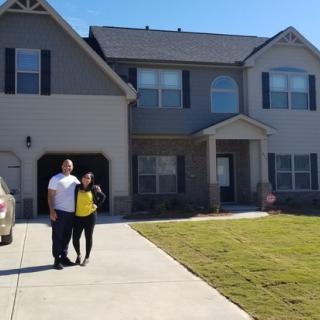 I was given a recommendation from a family member about Veterans United, and I was uncertain because I was working with another lender. From the very moment I called, I was treated throughout the process exactly the way I would love for others to be treated. I was treated with respect, professionalism, friendliness, and as if i was part of a very big family. I couldn't be happier. Above all, Veterans United won my business and respect. Debbie Rau and Glenn Steely were outstanding.

Jeremy Carver, Scott Elkan, and Andrea Walters were BEYOND phenomenal. They constantly reached out to me and I never had to reach out to them. Now that's what I call service. Andrea especially rocked it the entire process. This team deserves a raise and some praise! I definitely recommend this team specifically!!!!

Veterans United Home Loans have an excellent team! They are dedicated and keep you informed every step of the way. We were able to close earlier than expected! This is my second home purchase using Veterans United Home Loans and I will use them again in the future.My real estate agent was Lee Vining, he is a Veteran and he is the best, this was my second home purchase with Lee, he is experienced and his character is outstanding! Everyone in the upstate should contact Lee Vining if they are interested in buying a home.



I found out about VU from one of my Veterans' groups on Facebook. Some fellow Veterans were asking others which company they used for their home mortgage needs. Most of the responses I saw were of people who used VU. I decided to contact VU, and promptly received a call from a loan specialist. The process was way easier than we anticipated, even though we had a few things loose ends to tie up. VU kept in touch and updated every step of the way. My retired Marine husband is the biggest skeptic on earth, and he was also truly impressed! We have to mention Krista Moseley also for her quick response to every question and Issue that we had, and her reassurances when we got a little worried. We are eternally grateful for the professionalism and caring that was shown to us from day one to closing. We saw firsthand how and why VU is THE top lender for VA home loans, and we will forever remain grateful. Thank you so much!

You're next!
Join the ranks of our 150,000+ Proud Veteran Homeowners nationwide.
Only thing I would change would be having things completed a week before closing. And being informed of what the monthly payment is before going to closing.

I loved working with Veterans United, they were all very professional from start to finish.

If you don't use Veterans United you're making a big mistake. Fast, accurate, tons of information and truly professional


I'm not gonna lie, I was a bit apprehensive when I first started looking at Veterans United. I read all of the reviews I could find; both positive and negative. At the end of the day I figured that everyone has a different experience with things. I'm so glad that I chose Veterans United! Steve, Shan, everyone who had anything to do with our loan process was simply fantastic!
Highly recommend Veterans United!


If any veterans need help or are searching for a home. Please go with veterans united. They work with you every step of the way. We are proud home owners now, thank you veterans united

I will definitely be recommending Veterans United to my fellow service members; and, look forward to possibly doing more business with them in the future.


There Comes A Time in life where you finally realize that you want to capture a piece of the American dream. As a veteran, you helped fight for and protect that dream. Unfortunately life sometimes gets in the way and obstacles are put before you making it impossible to become a home owner in this great country. But once in a while the stars all aligned and you have people placed in your path that are designed to help you accomplish this great dream! Veterans United and Jim High were exactly that for me. I never thought that I would be a homeowner. Financial mistakes and hardships have hampered my ability to purchase in the past. Veterans United and Jim High helped facilitate my being able to have the American dream. For that I am very thankful!