DIDN'T THINK IT WOULD BE SO EASY. YOU GUYS ARE GREAT!

It was a great experience working with Madison and Denise. Kudos to the Veterans United team, you made are home buying experience very pleasant. Will definitely be using VU in the future.

Veterans United has outstanding customer service and employs top notch specialists. Buying a new home is a stressful experience, but you won't find a better team to guide you on your way. They provided clear communication throughout the process and were always available to answer our questions and address our concerns. My husband and I are so happy we chose Veterans United to help us land our dream home.

I will not buy another house without using the Veteran's United team. I have already recommended them to several veterans.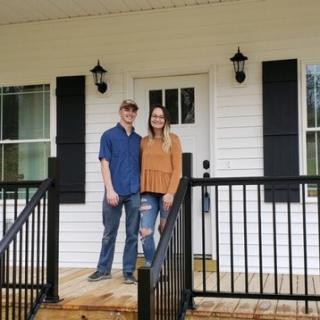 We were so impressed with Veterans United during our home-buying journey. The entire teams was very accommodating and worked diligently to help us close on-time. When bumps did arise, they were very informing and helpful in our ability to understand what was going on and did what they needed to, to make it smooth for us. We will ABSOLUTELY use Veterans United in any future home-buying journeys.



I appreciate the patience EACH of the personnel at Veterans United afforded my wife and me during this process. The overall experience was as pleasant as it could be and I have ZERO complaint.




It was a VERY long process but I'm so grateful for everyone's hard work and dedication on getting me in my new home.

I feel towards the end half of the process. I couldn't get anyone to answer a phone call where I had questions. Also the repetitive to do list of things that didn't pertain to me (I'm not divorced and it kept asking) after I time and time again protested it's irrelevance. Luckly, my real estate agent was too teir! Not pushy, understandable, and honest. I got the flagship house of the community with her diligence! I'm almost certain my predicament with VA home loans was purely situational. But for such a time period of my calls NEVER being answered..., it was nerve wracking for a first timer like myself. Thank you



We have bought two houses previously, and this experience was the worst. The lack of competence from the loan team was unbelievable. There is no way I would recommend Veterans United Home Loans to anyone.
Response from Veterans United
Bradley, thank you for taking the time out of your day to share this information. It is our goal to provide expert and reliable communication through a dedicated Loan Specialist. We would like to learn more about your experience and find out what may have prevented the process from getting off track. A member of our Client Advocate team is available to you for help improving our service for future customers.





Please give this man a raise. Paul gave me good advice, and a bunch of fun to work with.




Veterans United is a full-service company with sincere, supportive, and professional staff. Their lighthouse program, loan specialists, and underwriting team work hard to bring a client's loan to a successful closure. Their realtor referral program, and their recommendation of Dennis Brooks, facilitated us in finding us our forever home. Semper Fidelis!