I reccomend VU. Just be sure to be proactive during the process.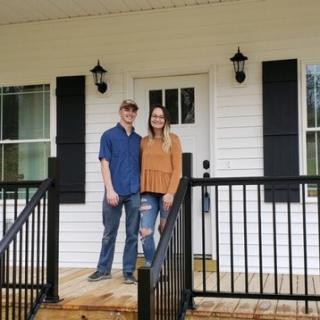 We were so impressed with Veterans United during our home-buying journey. The entire teams was very accommodating and worked diligently to help us close on-time. When bumps did arise, they were very informing and helpful in our ability to understand what was going on and did what they needed to, to make it smooth for us. We will ABSOLUTELY use Veterans United in any future home-buying journeys.

You have a great team working for your company

Overall I believe this experience was as good as it gets!



I'd recommend Kevin, the Loan Specialist to anyone!! First Class Act in performance of his duties!!!

You're next!
Join the ranks of our 200,000+ Proud Veteran Homeowners nationwide.

I highly recommend Veteran's United to anyone using a VA loan and is former/current military. They actually understand your specific situation better than civilian companies. It made all the difference for us during the buying process.


So helpful and courteous with everything.



Our overall experience from pre approval to closing was GREAT! Would be happy to recommend this Tom and Corey to any friends or family looking for a home loan or refinance. They are very professional and efficient while still leaving your feeling like family.

Seems friendly , but I had to
Deal with several agents with fancy titles , I would have preferred one or two only
Response from Veterans United
Sam, We appreciate your honest and direct feedback. Communication is vital in the home buying process so we try to have all avenues available for our clients. We thank you for your service and thank you for choosing Veterans United.



I thought that the entire team at Veterans United was really professional and helpful, and were always a step ahead of me.Also, I loved their business model of how they walk their clients through the entire loan process over the course of the loan application.



Our experience with Veterans United Home Loans was exceptional! Lee Sattler and the team at Veterans United are absolutely exceptional! Lee made our home buying experience enjoyable with minimal stress. Lee was easily accessible and made himself available to us whenever we needed him. This team was very thorough and they did not hesitate to take the time to breakdown information for us so we could have a better understanding and feel comfortable with the home buying process. No matter who we spoke with, this team always made us feel like we were their priority in this process. They were always professional and available. During our journey with Veterans United Home Loans, we never felt like another number or just another borrower. Lee and this wonderful team made us feel like family. Veterans United Home Loans walked through this process with us every step of the way and made our experience great! Thank you Lee and to all the team members that walked with us. You guys are awesome! Veterans United Home Loans rocks!!!! They really take care of you. Thank you for all that you do for us!