Veterans United was there from start to finish. Everyone they put us in contact with amazing and wanting to help us every step of the way. I would recommend them 1000% to anyone looking to buy a home.




Veterans United made the process of buying our first home such a breeze!! Give it a try, you won't be disappointed!!




You're next!
Join the ranks of our 200,000+ Proud Veteran Homeowners nationwide.
Veterans United is hands down the wisest choice for any veteran to contact when looking for a smooth and helpful home buying experience.

Veterans United was great. Closed on my California non -conforming/jumbo loan in less than 30 days with and got me an exceptional rate when other lenders where not even writing these type of loans during the coronavirus pandemic.


I would highly recommend Veterans United for buying a home. Everyone was friendly and very helpful. They had very good video's on each step process to watch that explain the steps of buying a home. Especially for first time home buyers. We found these very helpful.

I was pleased with my experience with Veterans United. They helped me along the way through escrow and was there to answer my questions when needed.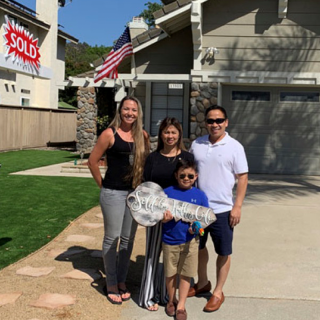 When we first met Travis Ward, he was just a loan officer. After a few months of interaction with Travis, he became our trusted friend. Travis is warm and articulates. He knows his product very well. He took his time to explain all of our questions within 24 hours. Besides those outstanding attributes, what stand out the most about Travis are he is very patient and his ability to listen to our questions/concerns, he waited for us to finish our questions completely before he responds. Travis never once (never) jumped in the middle of our sentences. We would definitely refer him to our friends and family members for VA home loan. It would be a mistake should Veterans United not to retain his service nor inadequately compensate base on his outstanding skills, personal and professionalism!! Warm Regards,Khoa, Susan and Nhat Huy (from San Diego, CA)

The Veterans United team was verr easy to work with. They were very proactive working with my realtor to move the transaction forward and were very responsive to all my questions. Very professional, knowledgeable and friendly!








Veterans United was so easy to work with. They simplified everything and took the time to explain everything I had questions about. I will definitely be recommending Veterans United to other Vets I know.

One of the most professional, patient, and helpful organizations I've ever seen, anyone who served in America's Military looking to buy a home can appreciate the teamwork, discipline, and dedication of Veterans United.


Veterans United provided a seamless loan process, complete with informative videos, helpful personnel, and state of the art technology to walk us through this significant step in becoming homeowners. I was treated respectfully like the hard working patriot I purpose to be.


I would recommend to anyone and will in the future no question about it!

It was, quite simply, a great experience. They made sure we were comfortable with everything, kept us on the loop, explained everything clearly and delivered on time. Everything was smooth! And so easy! As a First-Time homebuyer, i couldn't ask for a better lender! Especially during this time of pandemic. I've tried my credit union/bank and they weren't as thorough and professional as Veterans United. We even have a Homebuying Concierge! So excited on being a Home Owner. Our first house! Thank you for everything! Will definitely work with them again, Highly recommend.