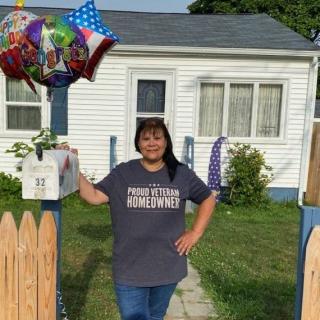 I can't imagine ever purchasing another home without Veterans United by my side. They made the process easy, understandable and no pressure. I knew exactly what I could afford before I even started the journey. With the exception of inspection cost, I really did buy my house with NO MONEY DOWN!! I couldn't have done it without my loan officer Kody Gilbow and his team. Thank you for the gifts and your welcomed to stop by any time!

I would encourage all Veterans of the military to give Veterans United a try..My branch of service is the US NAVY!!!..Trust me they are very professional and put us first..Thanks again Veterans United..I highly recommend this team!!!..




We did have a problem close to the closing. The cash at closing amount changed by approximately $9,000 at closing due to property taxes. After talking with Jonathan he explained that during the draft contracts that we reviewed, the Title insurance company had not included this amount over the entire mortgage process. We also overlooked that significant amount of cash to recoup. It was a bit of a shock as the cash on hand to close amount changed rather significantly. My recommendation is include the property tax amount in the cash to close.
Second, the sheet with all the blocks explaining the cash amounts and how the final mortgage amount is confusing. Money that moves in and out, i.e. the VA funding fee, closing costs paid by the seller, and just the overall form, we had to call Jonathan a couple of times for explanation. My recommendation is create a form by people who are not accountants that can explain all the exchange of money.

You're next!
Join the ranks of our 200,000+ Proud Veteran Homeowners nationwide.
Kelsey Fogle was outstanding to work with. She repeatedly went above and beyond to make sure our closing happened on time and with little issue.


Veterans United has made the whole house buying process easy and simple to follow through on. It's online process for managing this made it even smoother. I wish everything was as simple as this.I can't thank the Veterans United Home Loan team enough in helping us secure our much needed home.

A dedicated group who are there to support you and make home buying easy

Veterans United was very precise and thorough with explaining what documents were needed and how each step of the way worked from applying for the loan, to going into contract and up to closing. Would HIGHLY recommend them!

Every aspect of my home buying experience was stress free and painless. I would absolutely recommend Veterans United to my fellow veterans, family and friends. Thank-you!! So glad I chose to go with Veterans United.


Veterans United made such an overwhelming process seem effortless. The team we worked with from Day 1 made us feel as if getting a loan and our house was their number one priority. We would recommend them to anyone and everyone, and cannot speak highly of them enough.



You're next!
Join the ranks of our 200,000+ Proud Veteran Homeowners nationwide.


.





Great experience as always. I got a loan last year and refinance this year. Exceptional service. Thank you