While this purchase did go through, I had one other that fell through, I know this was from the va appraisal and evaluation, which was absolutely absurd. Unfortunately during that purchase I never felt like veterans united was in my corner to help fight for the correct information. There was very little help in regards to reasoning with the VA and ultimately the much larger sale fell through. While I may use veterans united again if I need to I will never use the VA loan again, it is an absolute nightmare to jump through and may as well be useless to many of us who served. Disgraceful, but that's what I expect from the VA.


You will know quickly if you pre-qualify. Veterans United made the process super easy. They were genuinely respectful of any concerns and questions I had. So ask ask ask. I would recommend to all my veteran friends







I would recommend Veterans United Home Loans to any veteran wanting to use their va loan benefit. I had the best experience throughout the whole process. My loan team was very friendly and helpful. They answered all of my questions quickly.

You're next!
Join the ranks of our 200,000+ Proud Veteran Homeowners nationwide.

very straightforward professional people and most of all honest the most important

Excellent customer service

Veterans United and their team is definitely who you want for a positive home buying experience.

Veterans United made my home buying process comfortable, my loan officer Terry Roberts was fantastic along with the other people that helped get me approved.
Thank you so much!



I prefer the text feature that his team uses. If my intended recipient was on another phone call or out of the office, the text service they had insured my question was addressed by someone on Jared's team in a reasonably expected time.



You're next!
Join the ranks of our 200,000+ Proud Veteran Homeowners nationwide.
I did not think I had a prayer of getting the house. I was laid off during the pandemic and my wife was our only income.
We had been waiting a long time for a house that had finally become available close to our daughter.
When I inquired with Dave about our eligibility he said he could still make it happen with just my wife's income.
He was right and now we're finally home!
Thanks guys, you did it all...
Gary &Sue



This was a smooth transition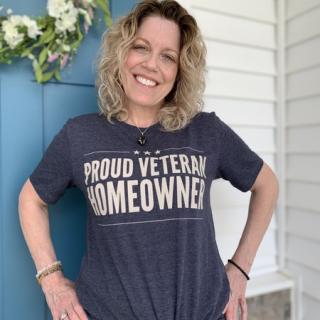 Buying your first home is stressful. From the minute I called Veterans United home loans they made me feel at ease. Their team goes above and beyond to help you not only finace your home, but they help find the best real estate agent to help you find the home of your dreams. Their whole team took the time to explain everything regarding my VA loan to me. To all my fellow Veterans who are in the process of buying a home, or refinancing a home I highly suggest you call Veterans United home loans. I had a great experience with them and you will too.



Veterans United understands the needs of Veterans and will do everything possible to secure your home.


The above loan process could have been more efficient by streamlining the loan process.