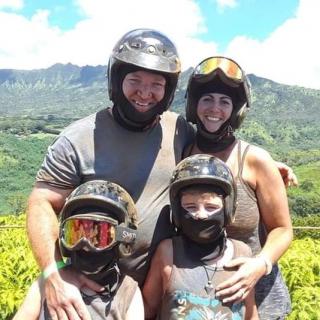 Everyone has been incredibly helpful and polite, and the whole experience went smoother than butter. I was skeptical about the company at first because they asked for some personal information in order to receive a quote, so I naturally gave some bogus answers just to fill in the required slots. Our loan officer called us, and between him and his team, our minds were put at ease. We went from living on a pretend street called "Nunya Business" to closing on our first home. When my husband's orders were put on hold due to SARS-CoV-2, the company was with us every step of the way to make sure we were doing okay. They knew between the limbo with PCS orders and me still working as a nurse, our family was under a bit of stress (as are most others around the world). They sent our family board games to keep us entertained and connected while we were at home as the world went crazy around us. The entire experience has been great, and the team was with us every single step of the way. Veteran's United even supported our decision to get quotes from other lenders as well. After feeling like "just a number" with NFCU, we stuck with Veteran's United because it felt like we were being taken care of like family. If you're on the fence, don't be. Veteran's United is amazing, and we don't regret our decision even for a second!


Veterans United is a great company to work with !!! Their staff is very knowledgeable in their field and they go out of their way to help you. Jake Levy was my loan specialist and he was awesome !!!




You're next!
Join the ranks of our 200,000+ Proud Veteran Homeowners nationwide.




Karol n her team were awesome reliable n professional there's was always some there to answer the question or fill the role during a very scary process



This is the right place for a home loan.

I would recommend Veterans United to anyone looking to buy a house. We shopped around quite a bit and these guys gave us the best prices and explanations with the greatest customer service you could ask for.Thank you all for helping us house our growing family!!!!

I can't say enough about working with Veterans United. Karol and the whole team were amazing to work with and really made this an enjoyable experience. The process was very simple and the whole team was willing to help with any questions or concerns we had.


You're next!
Join the ranks of our 200,000+ Proud Veteran Homeowners nationwide.
Veterans United is not just for military families; we definitely would use their company again!


We have closed three loans now with Veterans United. Heather has been a pleasure to work with each time, and is a consistent positive driving force for the company. Our most recent loan,we worked with Nick Laws who is also incredible. He is as responsive and thoughtful as Heather and a tremendous addition to the team. Thank you for being amazing!




If you are looking for a first class lender, Veterans United is the way to go.

They communicated on time well, and walked us through the process smoothly

Veterans United helped me purchase my first home. They made it easy and were very encouraging. They were so friendly and were even more excited for me than i was at times. Lol!! I am so glad that i chose Veterans United when looking for my first and forever home.