A lot of questions start swirling around your brain once you decide it's time to pursue the dream of homeownership. That's certainly normal, especially for first-time homebuyers, who are about to embark on an exciting-yet-unknown journey.
One of the biggest questions -- and the first for many prospective VA homebuyers -- is mixed with awe and uncertainty: How much house can I buy? It's an important question, and one whose answer will vary from person to person. But it's only natural to start by trying to gauge what kind of loan amount you might qualify for and what kind of homes are in your price range.
There are several ways to go about getting a sense of your purchasing power. Even a broad estimate before you really start the homebuying journey can help set realistic expectations and swiftly guide you to properties that make sense for your budget and your buying power. This is where a good VA mortgage calculator can come in handy.
Begin with Budgeting
Start by taking a long, hard look at your monthly budget. How much comes in, and how much goes out to major revolving expenses? Look at things like rent or a mortgage payment; a car or student loan; and other major recurring debts. Think about how much more money you can shell out each month and still feel comfortable in your ability to get by.
Gather the figures for your gross monthly income and those major debts and divide them. You'll get an estimate of your debt-to-income (DTI) ratio, which is one of the factors lenders will consider. The VA wants to see a DTI ratio no greater than 41 percent, although it's possible to exceed that threshold and still secure financing. But if you've already got a high DTI ratio, you may need to work on paying down some debts before pursuing a VA home loan.
Next, look at how much income is left after you paying those expenses. VA loans have a unique and important requirement called residual income. Prospective VA homebuyers must have a minimum amount of money remaining each month after paying those big recurring expenses like a mortgage payment or student loans. The amount of residual income you need to have will depend on where you live and your family size. Check out our residual income chart to see what you'll need.
It's always more helpful to go over things like this with some numbers.
Plug and Play
For example, let's say your gross monthly income is $3,500 and you're working with the following debts:
Rent = $800 per month
Car payment = $250/month
Student loan payment = $200 per month
Total debt = $1,250/month
Given those numbers, your current DTI ratio is about 36 percent (1,250/3,500). Remember, the VA wants it no higher than 41 percent. Start playing around with the numbers and you'll see that increasing your monthly debts to about $1,500 -- just another $250 -- would put you just above that 41 percent threshold (1,500/3,500).
So unless you're able to pay off or pay down some of those other recurring debts, your monthly housing costs can increase no more than $250. In this example, that translates into a mortgage payment around $1,000 per month.
Now that you've got a better idea of your financial landscape, you can start to plug numbers into our VA loan calculator.
Run Some Numbers
Let's keep the example going and say you're looking to purchase a home in Fort Riley, Kan. Using our calculator you'll see a slider that allows you to select your purchase price, your down payment amount (which for most VA borrowers will be $0, because this is a no-down payment loan program), your estimated interest rate and a ballpark of your credit score.
To the right, you'll see a box that shows your estimated monthly payment given all of that information. This is an estimate that even includes what your taxes and insurance might cost in addition to the principal and interest -- your monthly mortgage payment will consist of all four elements, also known as PITI (principal, interest, taxes and insurance). Prospective borrowers will also see their likely VA Funding Fee, although remember those with a service-connected disability are exempt from paying this fee.
So let's assume we have no down payment, a 4.25 percent interest rate and a good credit rating. How will the monthly payment likely look if we aim for a $180,000 purchase?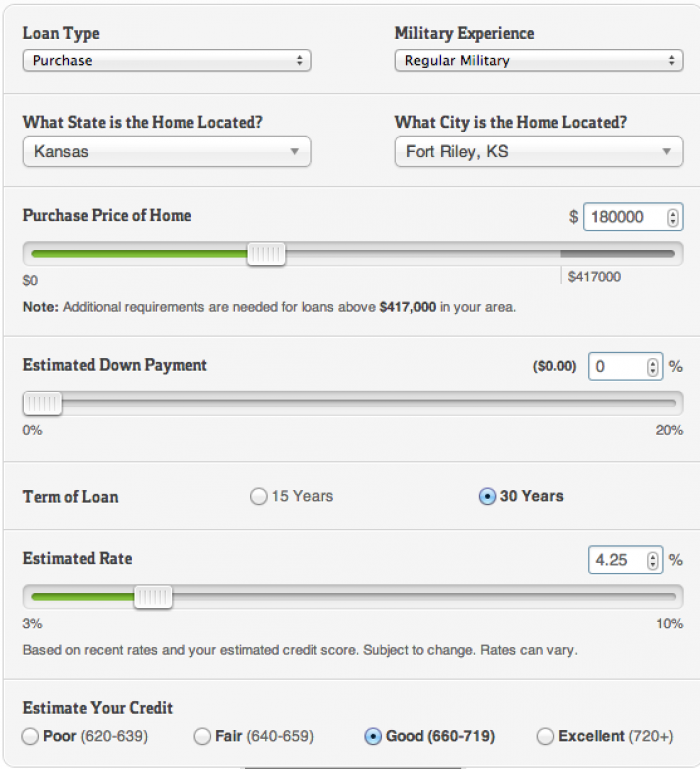 Given those numbers, the monthly payment is coming in above the $1,000 per month range we're likely working with: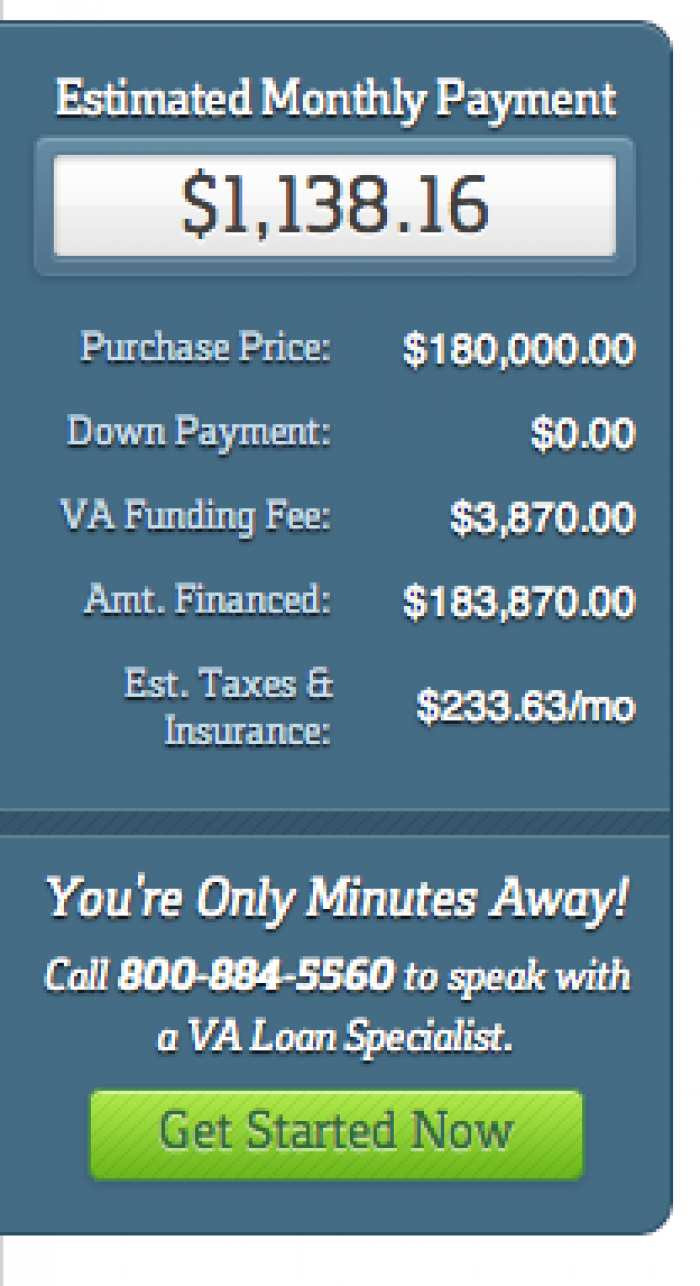 So it seems likely that a $180,000 loan amount is going to be a stretch. At the very least it'll require you to meet additional financial hurdles with a DTI ratio above 41 percent. So how high can we go without seeing that monthly payment estimate rise above $1,000? Keep moving the purchase amount slider lower until the numbers start to work:
The $158,000 purchase amount in this example translates into a monthly mortgage payment at the cusp of your ceiling: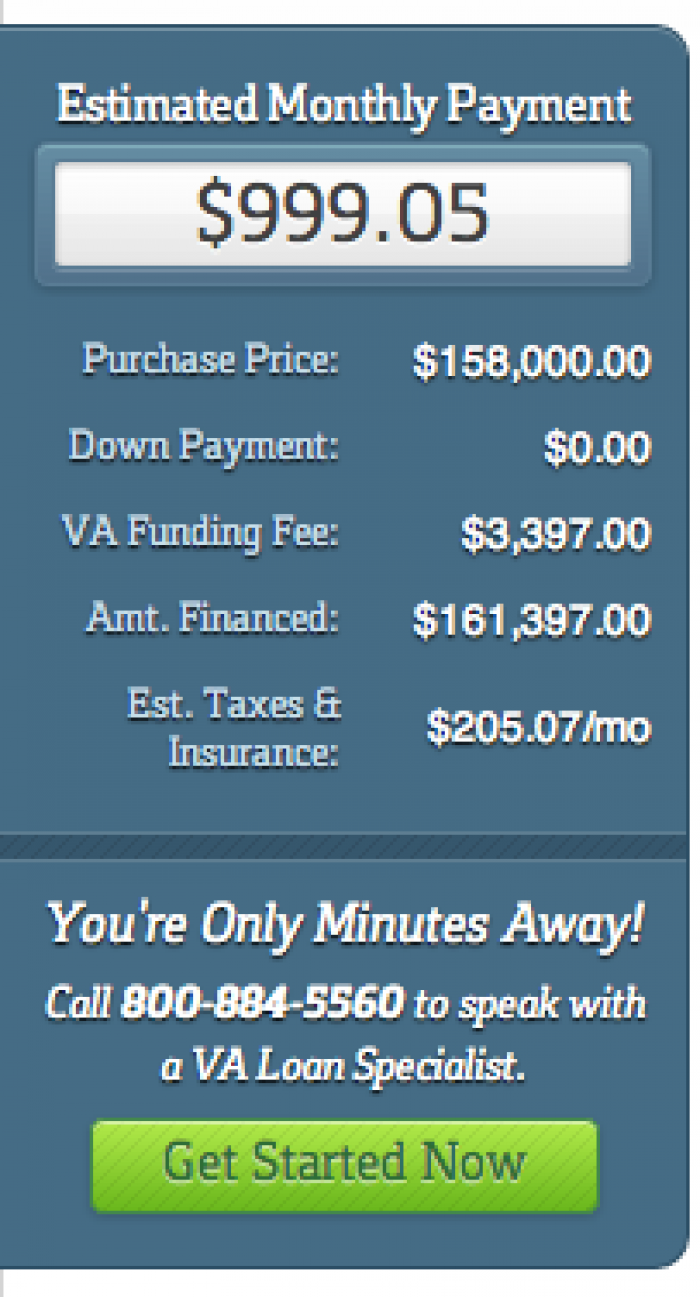 This gives you a rough idea of how much you can likely afford to borrow. There are certainly other significant considerations and requirements that can significantly alter an estimate like this. Residual income is a big one. That's why it's often a good idea to talk with a VA lender about getting preapproved -- that will represent a much more realistic estimate of what you can afford and how much a lender is likely to extend.
VA Loan Preapproval
Lenders will take all of your debt and income information and perform some similar calculus. Getting loan preapproval typically means you walk away with a pretty clear sense of how much house you can buy. Preapproval is also important because it shows both home sellers and their real estate agents that you're a serious contender who's in a good position to secure home financing.
You can talk with a Veterans United loan specialist about what it takes to get VA loan preapproval at 855-870-8845.
See What You Qualify For
Answer a few questions below to speak with a specialist about what your military service has earned you.