For many prospective homeowners, traditional brick-and-mortar homes may seem out of reach due to escalating prices and low housing inventory. However, an alternative form of housing is rapidly gaining popularity: manufactured and mobile homes.
Fortunately, Veterans can use their VA loan benefit to purchase a manufactured home. Below we'll guide you through securing a VA loan for a manufactured or mobile home, highlighting the benefits, property requirements and practical considerations you need to know.
Can I Use a VA Loan to Purchase a Manufactured Home?
Yes, you can use a VA loan to buy a manufactured or mobile home, but it's important to understand the distinction. When people talk about "mobile homes" or "trailers," they're typically referring to a manufactured home.
The difference between "manufactured" and "mobile" homes dates back to the 1970s when federal building and safety standards emerged. Veterans might struggle to get financing for manufactured homes built before 1976.
Veterans and military members interested in manufactured housing should check with lenders at the outset about whether they make loans for this property type, as policies and guidelines vary by lender.

Veterans United does help Veterans use their benefit to buy new manufactured homes. The company does not finance single-wide manufactured homes or homes installed at a previous location.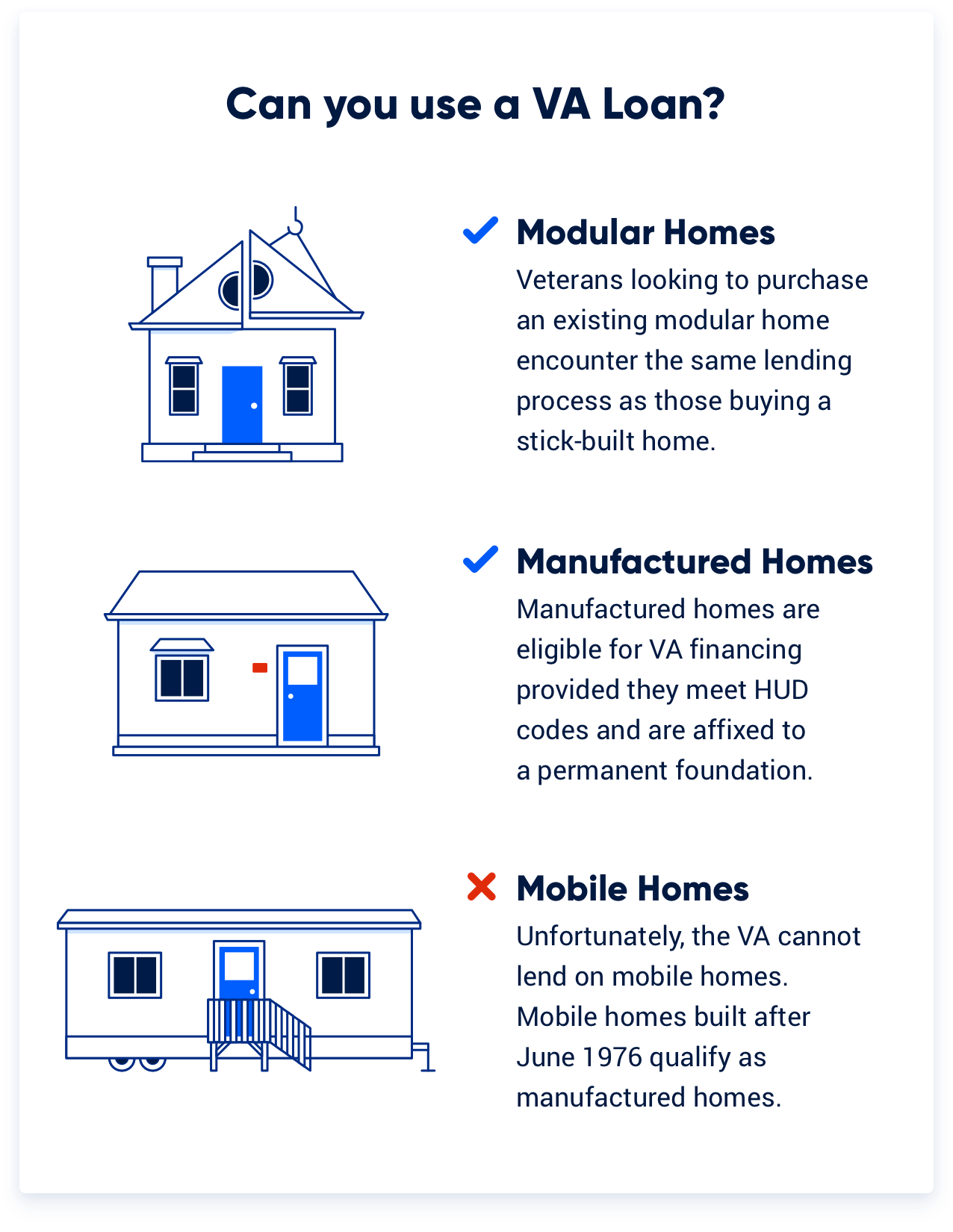 VA Manufactured Home Guidelines
Manufactured homes are entirely built in factories and must meet building codes set by the U.S. Department of Housing and Urban Development (HUD). The following is required for a VA manufactured home:
Affixed to a permanent foundation
Minimum 700 sq ft of interior floor space
Must be considered a real estate entity per state law and meet all local zoning requirements for real estate per Chapter 12 of VA Pamphlet 26-7
Manufactured homes must also have a metal identification plate outside the structure. You might hear this called a "HUD tag" or a "red tag."
Additionally, manufactured homes need to have a "data plate" inside the home, often on a bedroom closet wall or inside a kitchen cabinet. The data plate is a sticker with information about the house and its specifications.
Will the VA finance a manufactured home that has been moved?
Most lenders will not finance a manufactured home if it is moved. Whether brand new or existing, manufactured homes typically need to be affixed to a permanent foundation and classified as real property to qualify for a 30-year VA loan. They'll also need to conform with the VA's Minimum Property Requirements.
Modular Homes & VA Loans
Modular homes are treated differently from manufactured homes. Generally, sections of a modular home are built in a factory and then shipped to a home site. From there, the pieces are assembled by professional contractors, much like a traditional, stick-built home. Modular homes must meet local or state building codes rather than federal guidelines.
Veterans looking to purchase an existing modular home encounter the same lending process as those buying a stick-built home.
VA Modular Home Guidelines
May be built in pieces/sections and then constructed on site
Must be affixed to a permanent foundation
Must meet local building code standards
Local building inspectors must sign off on structure meeting local requirements
Cannot be moved after it has been placed on property
Can I Build a Modular Home with a VA Loan?
Things can get more complicated if you want to buy a new modular home and install it on a piece of land. Lenders will often consider this new construction, which changes the complexion when you're talking about VA home loans. It's tough to find VA lenders willing to do a true $0 down construction loan.
Often, borrowers need to obtain a construction loan from a builder or a local lender, then look to refinance that short-term loan into a permanent VA mortgage once the home is ready. This is a common pathway for both stick-built and modular-new constructions.
Like most lenders, Veterans United doesn't offer a VA construction loan. But we do handle the permanent financing for many Veterans who get construction loans from builders or local lenders.
Talk with a Veterans United VA Loan Expert at 855-259-6455 to learn more.
See What You Qualify For
Answer a few questions below to speak with a specialist about what your military service has earned you.