Assuming a VA loan is a lending process where a borrower takes over or "assumes" a Veteran's current home loan. VA loan assumptions transfer the existing loan's balance, the interest rate and the monthly mortgage payments. The assuming party does not have to be a Veteran.
Are VA Loans Assumable?
Yes, VA loans are assumable. The ability to assume another VA loan is a significant benefit in a rising rate environment but also comes with risk.
Loan assumptions and traditional home purchases differ in some fundamental ways. Not all VA lenders allow for assumptions. Assumptions can also potentially put your VA loan entitlement and your credit at risk. However, they can offer VA homeowners an attractive bargaining chip in a rising-rate environment.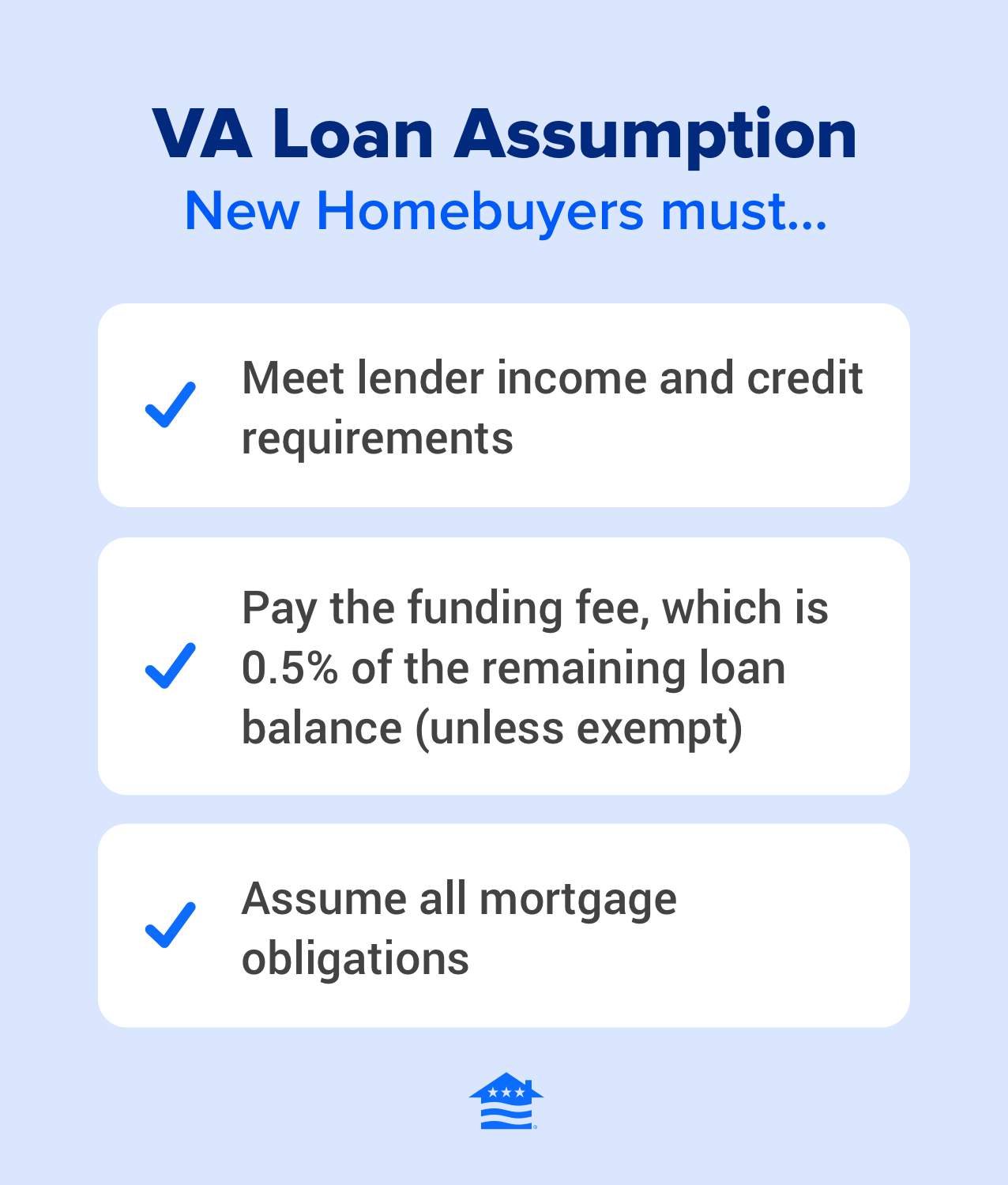 How to Assume a VA Home Loan
For the assumption to take place, you must meet these requirements
The new homebuyer meets the lender's credit and income requirements
The new homebuyer must assume all mortgage obligations
The new homebuyer must pay the funding fee unless otherwise exempt
The VA funding fee on a VA loan assumption is 0.5% of the remaining loan balance. Those exempt from paying the VA funding fee typically include Veterans with a service-connected disability, Purple Heart recipients and surviving spouses.
Non-Veterans assuming a VA loan must pay the VA funding fee.
How to Find Assumable VA Loans
There are a few different ways you can find assumable VA mortgages. The first is to work with a real estate agent and ask them to locate homes with assumable VA loans. Working with an agent who has access to the multiple listing service (MLS) will make shopping for homes with assumable mortgages much easier.

Another way you can go about finding assumable VA loans is to use specialized websites like Zumption.com or TakeList.com.
Want to be connected with a real estate agent experienced with VA loans? Get in contact with one today
.
Potential VA Loan Assumption Challenges
In a typical purchase transaction, the buyer is getting a mortgage loan to purchase the home. The seller uses the proceeds of the sale to repay their loan in full, shifting the financial obligation for the property solely to the new owner.
The seller can also look to restore their full VA loan entitlement once they've repaid that original loan.
Assumptions pose different challenges that affect your remaining entitlement and even your credit.
Release of Liability on a VA Loan
Your legal liability for the debt doesn't automatically disappear upon completing an assumption. VA homeowners must ask for and obtain a release of liability from the lender or servicer.
Without a release of liability, VA homeowners could take a significant credit hit if the person assuming their loan later makes late payments or defaults on the mortgage.

Using VA Entitlement After an Assumption
Another huge consideration is VA loan entitlement. If the person assuming your loan is a Veteran with sufficient VA loan entitlement, then you can ask them to formally substitute their entitlement for yours on that mortgage. Otherwise, the entitlement you utilized to purchase the home will remain tied up there until the loan is fully repaid.
Failing to get a substitution of entitlement can limit your $0 down purchasing power when it comes time to reuse the VA loan benefit. What's worse is that Veterans would lose that portion of their entitlement entirely if the assumer later defaults on the loan.
Can non-Veterans assume a VA home loan?
Yes, in some cases, the VA loan can be assumed regardless of whether the new buyer is a Veteran or not.
Potential VA Loan Assumption Benefits
Those are some of the key considerations and potential concerns. Regarding the potential advantages, the two primary benefits revolve around rates and closing costs.
Interest Rate as a Selling Point
Having an assumable loan can be a big help if you're looking to sell during a time of rising interest rates.

Suppose you bought a few years ago and got a rock-bottom interest rate. With rates on the rise, your rate may be lower than anyone could get on the market today. That's a huge selling point if another borrower can assume your loan and the interest rate you locked in years ago.
Closing Cost Benefits
Most of the closing costs associated with a VA purchase aren't part of an assumption, either. But the person assuming the loan does pay a funding fee of 0.5 percent of the loan balance. That fee goes directly to the VA and helps keep the loan program running for future generations of military buyers. Veterans who would typically be exempt from the VA Funding Fee are also exempt from this assumption fee.

The key with a loan assumption is to make sure to safeguard your VA loan entitlement and your financial future. VA loan assumptions aren't incredibly common, but the ability to have someone assume your loan is a potential benefit when the time comes to sell. It's a benefit you won't find with most conventional mortgages.
If you're interested in a VA assumption, talk with your lender or servicer to get a better understanding with your financial situation.
See What You Qualify For
Answer a few questions below to speak with a specialist about what your military service has earned you.