From the minute I made the call to inquire about purchasing my first home to the minute I signed my last document at closing, the whole process was seem-less and stress free. Ryan Stoll, Sarah, Jesse and his whole team were there anytime and every time I had a question or an issue came. I cannot thank them all enough for helping me make my dream become a reality. Thank you Veterans Administration and Veterans United for everything.


Everyone worked very hard and long hours to make sure all the details were taken care of. Craig, Bryan and Melissa were phenomenal.





Made it incredibly easy

Veterans United is Second to None in the home buying program for Veterans! They went above and beyond of what needs to be done to purchase a home! They led us step by step diring the process in a Professional and Encouraging way! I will Recommend Veterans United to anyone seeking to Purchase a House! FANTASTIC JOB!

Highest marks! They really know what they are doing. Made a stressful situation easy and brought it to a very successful conclusion.

Ready to see for yourself?
Experience first-hand why 184,900 homeowners give us a perfect score!
Check My Eligibility →
Veterans United home buying online articles are a huge treasure trove of information. Plus, the mortgage calculator was darn close in estimating my monthly payment and I'm glad I keep checking on it. Always utilize the online resources and better to think in terms of working with your loan officer instead of "for you". A+ Recommend!

First and foremost, thank you to Veterans United here in Savanah, GA for everything. Yall are the bees knees! First time home buying never felt easier or stress free with you. 10/10 for quality and you can definitely tell Sami and her team really do enjoy what they do because it shows in the process.

VU worked with us quickly and was able to overcome any hurdles we threw at them. Prompt and friendly communication helped the whole process go smoothly. Highly recommend! Thanks.



I've purchased a number of homes and this was a seemless process. Many thanks to my team!
The concierge service is phenomenal. It's evident they know their business and it shows. Prepare to be impressed.



I highly recommend Veterans United to any Veteran seeking to purchase a home. Their guidance and service made my purchase easy with no surprises.


Ready to see for yourself?
Experience first-hand why 184,900 homeowners give us a perfect score!
Check My Eligibility →
Very satisfied with Veterans United, I would recommend this loan service to anyone looking for a house

Veteran's United and saw me through what for me was a daunting process, with wonderful results. I love my new home.

Phil and the entire team are very professional and took the stress out of my buying experience.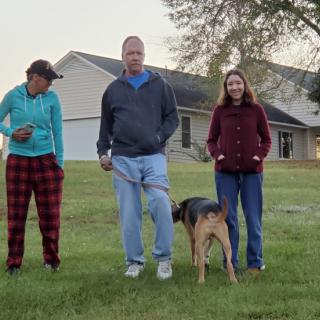 Zach and his team were outstanding. Every question was answer quickly. From start to finish, every step was smoothly handled. David and I have gone through the loan process to purchase homes before, but this one has been the smoothest. We definitely got the 'A' team when we got Zach.Thank you Zach, Julie and Doug

Veterans United made it a breeze to buy a new home. The team assigned to me walked me through every step and updated me immediately when there was a new task to complete. I prefer texting and email over calls, and they were more than happy to accommodate my communication preference. They use a online "To-Do" list that simply could not be any easier or straightforward. A large portion of documentation is done via online signings, limiting your exposure to people during the Covid pandemic, and allowing the option to access documents on your own schedule. Jon Abernathy, my Loan Officer, made sure that I got into my home perfectly within my needed timetables and was quick to answer my vast amount of questions. These people will hook you up with anything and everything needed to complete your mortgage and move. From connecting you to real estate agents with experience using VA loans, to moving companies, reminding you to switch utilities, and anything you could think of needing. I was even sent a good amount of sturdy moving boxes, color coated packing tape, and paper for wrapping my valuables. A nice and needed surprise. I was even sent a head massager, haha, cute touch! I definitely recommend using Veterans United, and Jon Abernathy, for the immensely complicated task of home buying. Let them make it easy on you.