Trust in this team! I would send everyone I know and love to Veterans United if I could.




The Veterans United system is very user-friendly. Clear and convenient communication at every step of the way.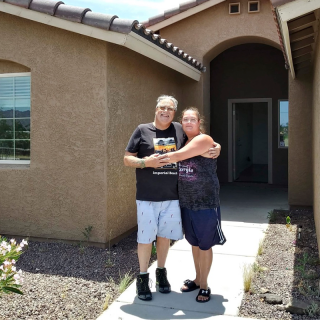 Travis ward was our loan specialist. He did absolutly more then we could ever have asked for he helped us understand what was going on with our loan and we did not have a thousand things to send in for our loan. The whole process went very smooth and quickly we started the process April 13, 2020 and closed May 13, 2020. Fastest home buying ever but worked out perfectly! We love our new home so much!


Everyone of you were very helpful, prompt, and truly an asset to your company. You all made the home buying possibility a reality, and I couldn't have done it without you!
Sincerely,
~ Stanley Sylva




You're next!
Join the ranks of our 200,000+ Proud Veteran Homeowners nationwide.

Veterans United was there for me every step of the way. There friendly, helpful, quick to respond to any question. They made me feel like they where family, I will recomend them to all my vet friends. They helped my wife and I realize our dream of owning a home.




thanks again for all your help with my making everything so easy for me to understand and alk I had to do to buy my house


Recommendations:Katie Rose needs to take ownership and accountability of her mistakes.As a sergeant/team leader in the military. When one of my soldiers openly admits to me that they made a mistake, I don't need to jump on their case because as soon as someone knows they made a mistake. Nobody in the room feels worse than that soldier at that moment and when that soldier feels that way, they will have resiliency to not make that mistake again.Myself as a customer. Give me the benefit of doubt that I wouldn't be frustrated or mad if someone openly admits they made a mistake. If Katie openly admitted she made a mistake, this review and my attitude towards VU would be more positive. The fact that she was pointing fingers and gave excuses. Which resulted that she lied. I will never work with VU again.
Response from Veterans United
Ronald, thank you for your open and honest feedback. Our commitment to providing excellent service means that your feedback is valuable. Our Client Advocate team will use your comments to further our ability to help every customer get to the closing table as quickly as possible. We wholeheartedly agree that accountability is a key trait to assist our clients and want to assure you that our goal is to provide amazing customer service. Thank you for your service to our country.

To all my fellow Vets. You earned it, now go get it. Vets Mortgage "Mission Accomplished".




Veterans United is top notch. This is my second home purchase and it was easy. The entire team was helpful and made the process hassle free.


I will use Veterans United again in the future



Great rate. I'm happy. Thank you.