Veterans United home buying online articles are a huge treasure trove of information. Plus, the mortgage calculator was darn close in estimating my monthly payment and I'm glad I keep checking on it. Always utilize the online resources and better to think in terms of working with your loan officer instead of "for you". A+ Recommend!



VU worked with us quickly and was able to overcome any hurdles we threw at them. Prompt and friendly communication helped the whole process go smoothly. Highly recommend! Thanks.


R Miller SA ca. It is a please to work with Veterans United.Smooth system to work with and timely hints for our family. Iam Proud to Recommend them to all our Veterans returning home... Hooyaah . !!!!!!!



Everyone made it a very easy process and I was always kept up to date. Huge thank you to all for your efforts.

My second time using there services and was just as pleased about both times..... Excellent Company To Deal With.....!

Ready to see for yourself?
Experience first-hand why 184,899 homeowners give us a perfect score!
Check My Eligibility →


I was frustrated and wanted to just give up thanks for the help. This team was A1

Kevin was very helpful with everything!




I highly recommend.

We were completely satisfied. Would definitely reccomend.


Ready to see for yourself?
Experience first-hand why 184,899 homeowners give us a perfect score!
Check My Eligibility →
Outstanding experience. I feel super lucky with the deal I ended up with. I would highly recommend Veterans United to all my fellow comrades. Thank you for having great customer service!

My loan officer, Jessica, and her team were very engaged and willing to help. Their proactive coordination and initiative ensured an on-time closing that, without their engagement, would have otherwise experienced a schedule slip.


Overall amazing experience, as a first time home buyer I was completely lost when starting my home purchase process but that quickly changed when Veterans United became my lender. Website interface was very easy to use and showed me everything I needed when needed and also provided plenty of information about the entire home purchasing process. Everyone was very helpful and showed that they wanted to help me through this process.

I had no idea getting a VA home loan could be so simple! No stress!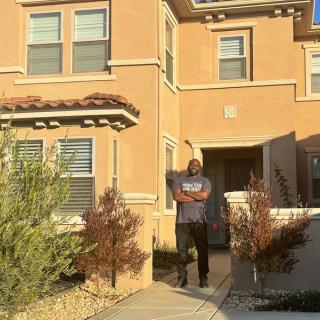 I want to start off by expressing my gratitude to Nick and his team for a seamless home buying process. My Family and I are truly grateful. After doing some research on Veterans United Home Loans, we made the decision to move forward with them to purchase a home. From the initial representative I made contact with to the Loan Officer and his team, every single one of them went above and beyond to ensure a smooth and successful process. I definitely would not hesitate to reach out to Nick again and highly recommended him to Veterans looking to purchase a home. You will not be disappointed.




Great experience all around.