The team that assisted my husband and I were extremely professional and knowledgable. The experience was like riding in a limousine with a certain millionaire quality added.






Overall I had a great experience with Veterans United.

Veterans United made something very stressful, so easy for us. Everything was organized and questions were answered in such a fast manner! Thank you very much on helping us purchase our first home.

Working with the team from Veterans United was so easy and effortless. I would recommend their service to anyone that would like to buy a new home. The team at Veterans United was much more then a loan team but they felt like family.

Using Veterans United through the home buying process is extremely easy. My loan team kept in contact with myself and my realtor through any changes or paperwork that needed to be signed. We got through from contract to close pain free and with no hassle!

Ready to see for yourself?
Experience first-hand why 168,897 homeowners give us a perfect score!
Check My Eligibility →



Veterans United made my home buying process very easy and convienient. I would recommend using them to any veteran out there.


N/A



Veterans United made this home buying process a breeze and Steve our loan officer was an amazing asset and always available to answer any of my questions.

Veterans United was the best! I had a mortgage loan before with another bank that MANY veterans use and always felt like I was getting the runaround. I could never reach my loan officer and the entire process was a disaster. While I still bank there, I will never get a mortgage with them again. Try Veterans United, I don't think you'll be disappointed!

Ready to see for yourself?
Experience first-hand why 168,897 homeowners give us a perfect score!
Check My Eligibility →
They are amazing. Great rates and easy to work with.



Kyle was great to work with. Best rates you can find! I went through multiple lenders and Veterans United through Kyle was the best. He made the process easy and stress free. Responded quickly and answered my questions intelligently and accurately. I never once had the feeling that I was being taken advantage of and Kyle had no issues explaining things multiple times if needed. We even closed out 10 days earlier than our initial close out date! Kyle is professional and the rest of the team is thorough and efficient. Highly recommend Kyle.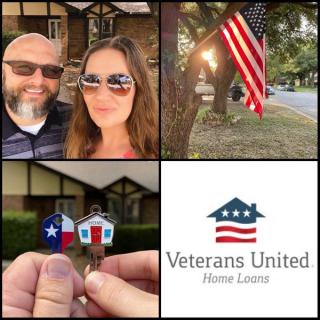 Veterans United made a process that I have always been apprehensive of an easy, painless, and ultimately rewarding experience.My Loan Specialist, Rob Hegstrom, was an absolute rockstar from start to finish. As a first time homebuyer I had plenty of questions. Rob took the time to explain the entire process to me and continued to keep me informed of any progress throughout the loan lifecycle.Veterans United also provided me with a realtor referral, Jason Todd. Jason Todd and his team were fantastic. I enjoyed working with them so much, I am referring my parents over to him to find their new home.In addition to all of the above, Veterans United provided a loan concierge of sorts that would frequently check in on me to make sure everything was moving along smoothly. They even provided me with links to all my utilities and services at the new house that I could choose from.Awesome experience.


Thanks to Crystaline and Kelsey.



Our first realtor wasn't the best. But that was our only issue. Everything else was great.