Veterans United stands apart from all others. They are detailed from beginning to the end. Available to answer questions and support you through the process. I'm thankful for my experience with them not once but twice.
A. Miller


Our home loan experience was positive from start to finish. All the loan personnel we dealt with were courteous and quickly responsive. We were also impressed with the fact that your company was willing to negotiate loan rates when presented with competitors' offers. We will definitely recommend your company to our extended family and friends.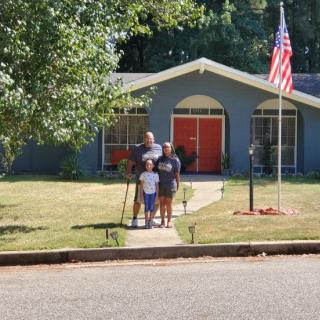 Thank you Veterans United, for the easy process of obtaining a home loan, and also thank you to our Loan Agent, John Sullivan, and his team. I wasn't sure if the picture that my wife uploaded went through so we are posting another one. Thanks again Veterans United, I dont think we could have gotten much paperwork completed even during covid, without you. Marcus and Linda Wofford.





Above and beyond. We've all heard that. Have we experienced it? I hope some of us have. Otherwise Steve Kincheloe and his team will make you see what the saying means. Thanks for all you've done for us on more than one occasion now, VU!

You're next!
Join the ranks of our 200,000+ Proud Veteran Homeowners nationwide.


This was my first home loan and refinance home loan. If I knew buying a home was this easy I would have been a home owner a long time ago. I couldn't see myself dealing with another finance company even if they offered a better rate!!!! Outstanding customer service and knowledgeable team!!!!








I enjoyed my first home buying experience so much with Aaron the first time there was no hesitation on who I would go too when it was time to refinance my home. Aaron and the Veteran's United Team were number one on my list.

You're next!
Join the ranks of our 200,000+ Proud Veteran Homeowners nationwide.

Made our refinancing experience so easy, awesome company

Veterans United has your best interest in mind. They have many veterans on their staff. Every person I dealt with was extremely professional, knowledgeable and personable. They make the purchase of your home worry free and I highly recommend them. I will never use another company! We did not have a realtor when we purchased our property and Veterans United walked us through the process worry free! Perfect from start to finish! You cannot go wrong with Veterans United! I can honestly say I have not had such wonderful customer service in a very long time!!





If you shop around you might find better rates but I can guarantee you won't find the same level of Customer Service as Veterans United.