National Guard and Reserve members first gained access to the VA loan benefit in 1992. However, legislation passed in 2020 gave even more National Guard members access to VA loan benefits, including those on active duty.
Let's take a closer look at the National Guard and Reserve requirements, along with the latest changes that will make an estimated 50,000 more Guardsmen eligible for this historic home loan benefit.
Can I get a VA loan as a member of the National Guard or Reserve?
Both National Guard and Reserve members may be eligible for VA loan benefits if they meet the basic service requirements.
Eligibility Requirements for National Guard and Reserve
Generally, six years of service in the National Guard or Reserve is the catch-all requirement. Once you hit six years of honorable service, you're typically eligible for a VA loan.
There are also circumstances where it's possible to earn VA home loan eligibility before six years. National Guard and Reserve members called to active duty service under Title 10 have gained VA loan eligibility for decades as long as they serve at least 90 consecutive days.
Guardsmen mobilized under Title 32 orders haven't had the same kind of early access to the VA loan benefit. That's where this new legislation makes a huge difference.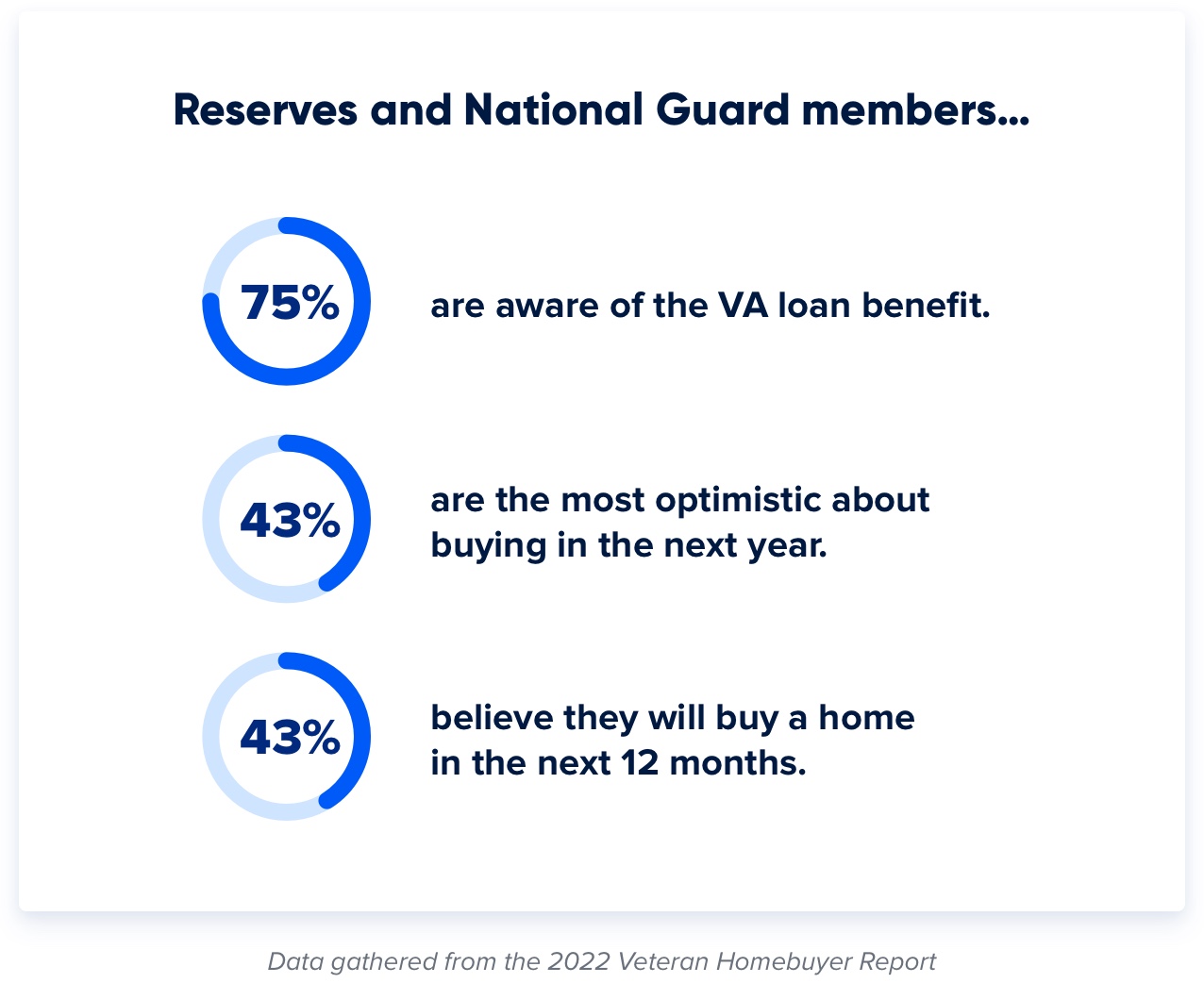 New Expanded VA Loan Eligibility for National Guard
VA loan eligibility for current and former National Guardsmen received a significant boost in 2020 thanks to the Veteran Health Care and Benefits Improvement Act.
This legislation helps bridge the eligibility gap between Title 10 and Title 32 service.
Now, National Guard members activated under Title 32 orders can be eligible for a VA loan after serving 90 cumulative days of full-time duty, of which at least 30 must have been consecutive.
The National Guard Association of the United States estimates as many as 50,000 Guardsmen mobilized for the COVID-19 pandemic may gain immediate access to the home loan benefit.
This legislative change is also retroactive. National Guard members who served decades ago and now meet the new Title 32 guidelines could now be eligible for a VA loan.
VA Loan Documents for National Guard & Reserve
Some paperwork and documentation can vary, but the VA loan process isn't very different for Guard or Reserve borrowers. They have access to the same significant homebuying benefits with the same general process.
Prospective homebuyers can talk with a Veterans United VA Loan Expert about their eligibility for the VA loan program. You don't need to have your Certificate of Eligibility in hand to start the VA mortgage process.
Once things are underway, lenders may ask for a DD-214, an NGB-22 for National Guard members, or a points statement and copy of discharge statement for Reservists.
How many retirement points do I need for a VA loan?
Not counting active service or orders covered under the new law, essentially six "good" years' worth of points. A "good" year is a year with at least 50 retirement points.
Here's a closer look at some of the service-specific documents lenders may need:
National Guard: NGB-22 or NGB-23
Army Reserve: DARP Form FM 249-2E or ARPC Form 606-E
Navy Reserve: NRPC 1070-124
Air Force Reserve: AF 526
Marine Corps Reserve: NAVMC HQ509 or NAVMC 798
Coast Guard Reserve: CG 4174 or 4175
Counting National Guard and Reserve Income
Reserve and Guard homebuyers may be able to include their service income as effective income toward mortgage qualification. As with other forms of income, stability and reliability are essential.
Lenders will look at your history of service and indications that it's likely to continue. If there are concerns about stability, lenders may at least be able to use that income to offset short-term obligations. In other words, your income from National Guard or Reserve service could cancel out other expenses expected to last a year or two.
Lenders may also inquire whether your income could change based on your unit's activation.
VA Funding Fee
Unless you have a service-connected disability, all VA borrowers pay the VA funding fee. This fee goes directly to the Department of Veterans Affairs and helps keep the program going for future generations of service members and Veterans.
Before Jan 1, 2020, National Guard and Reserve members paid a higher VA funding fee. Under the Blue Water Navy Vietnam Veterans Act of 2019, the funding fee is now equal for all service types and only changes based on down payment and prior VA loan usage.
The VA funding fee is typically 2.15% or 3.3%, depending on the specifics of your loan. Use a VA funding fee chart to figure out your fee, and keep in mind that it's possible to finance the VA Funding Fee into the loan or ask the seller to pay it.
Getting Started
The VA backs thousands of loans for Guard and Reserve members and Veterans each year. With thousands of Guardsmen and Reservists now eligible for the VA loan, be sure to talk with a Veterans United VA Loan Expert at 855-870-8845 to learn more about your purchasing power and what might be possible.