VA rehab and renovation loans, sometimes reffered to as VA supplemental loans, offer veterans and service members a low-cost, no-down-payment way to purchase fixer-uppers or homes in need of some extra TLC.
Through VA renovation loans, borrowers can finance both the purchase price and necessary repairs, or refinance and repair an existing home. But it's also important to understand the limitations of this special loan option, including that it can be difficult to find lenders that make them. Like most VA lenders, Veterans United does not provide this type of financing.

What is a VA Renovation Loan?
The renovation loan is the VA's answer to the FHA 203(k) loan. It allows eligible veterans to purchase and repair a property using a single VA loan. Like traditional VA loans, these mortgages require no down payment and no mortgage insurance. However, borrowers will have a challenging time finding a lender, as few actually offer VA rehab loans. Like most VA lenders, Veterans United does not provide this type of financing.
How VA Rehab and Renovation Loans Work
VA renovation loans essentially roll the purchase price of the home and the costs of any expected repairs or improvements into one single loan (and therefore one single payment).
The total amount you can finance depends on the estimated "as-completed" value of the home -- meaning the market value of the property once all repairs are finished.
To find out a property's as-completed value, you'll need to get itemized quotes from a contractor on any repairs or improvements you plan to make. Then, a VA appraiser will review this and determine the home's future value.
With a VA renovation loan, the as-completed value must always be the lesser between the total acquisition cost or the as-completed value determined by the VA appraiser.
For example, if the sale price of the home, including closing costs, is $155,000, and renovations are $50,000, the total acquisition cost is $205,000. If the VA appraiser gave a Notice of Value (NOV) of $210,000, the lesser amount of $205,000 is used.
Differences Between a Traditional VA Loan and Rehab Loans
VA loans and VA rehab or renovation loans are essentially the same product. The only real difference is that the VA rehab loan is designated "for alteration and repair" of a home. In contrast, traditional VA loans are simply a home purchase or refinance product.
With a refinance, VA renovation loans are technically supplemental loans. If a property and borrower are approved for a VA loan, they may also be able to get a supplemental loan for repairing the property on top of that.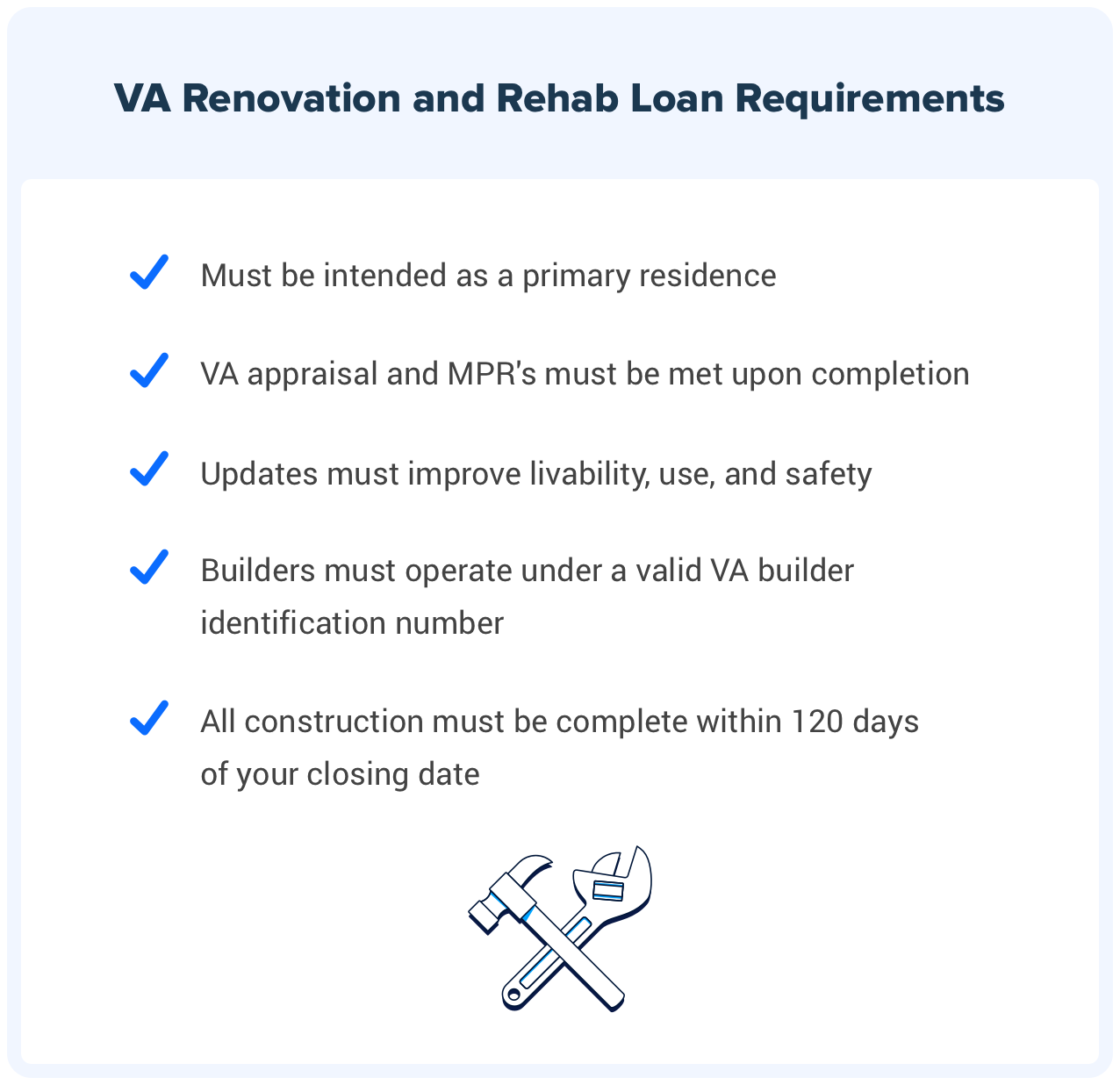 VA Renovation and Rehab Loan Requirements
Borrowers using a VA renovation loan must meet the basic VA loan service requirements and have a valid Certificate of Eligibility. Credit scores vary by lender, but you'll typically need at least a 620 mortgage credit score.
In addition to the basic VA loan requirements, a renovation loan will also require that:
The home must be your intended primary residence (once repairs are complete).
Your renovations need to improve the home's livability, use, and safety (not just aesthetic value).
Your contractors and builders must have a valid VA builder identification number.
All construction must be completed within 120 days of your closing date.
The property must pass the VA appraisal and meet all inspection requirements upon completion.
If you're refinancing, you can have no more than a 90% loan-to-value ratio. You also must have been in the home at least 12 months.
Allowable Improvements
There are some limits to what you can repair and improve using a VA renovation loan.
You can't do major structural work, add a new floor or room, install a swimming pool, or make landscaping improvements. You also can't put up a detached garage. Also, anything that requires a structural engineering report is off-limits.
Here's what you can do:
Repair or add new windows, doors, or siding
Repair or add new roof or gutters
Install new HVAC systems or water heaters
Improve insulation
Weatherize
Treat mold, lead paint, or mold
Make updates to improve energy efficiency
Repair or replace the flooring
Repair or replace electrical or plumbing systems
Accessibility updates
In general, the project has to improve the property's livability and value and must become a permanent part of the home.
Downsides to VA Rehab Loans
Since VA rehab/renovation loans come with all the perks of traditional VA loans (low rates, no down payment, etc.), there aren't many downsides. The biggest one is that these loans can't cover major structural repairs or, on the flip side, more luxurious updates (like adding a pool or fire pit, for example).
VA renovation loans are also limited in what properties they can be used on. Like traditional VA loans, they can't be used on rental properties or properties you intend to fix-and-flip. For these projects, a HomeStyle loan may be a better option.
Alternatives
If a VA rehab loan isn't the right fit for what you have in mind, there are other ways to finance the purchase of a fixer-upper or refinance and repair a home you already own.
Here are a few options:
VA Energy Efficient Mortgage - If you want to make specific green updates to your property, an EEM loan may be a better fit. These mortgages can help you finance solar water heaters, weatherize the home, install programmable thermostats, add storm windows, and other qualified improvements.
Cash-Out Refinance - A cash-out refinance can allow you to tap your home equity and use that extra cash toward home improvements and repairs. The VA offers cash-out refinances for qualified homeowners.
Specially Adapted Housing grants - If you need to make home improvements to accommodate a disability, then the VA's Specially Adapted Housing Grant can help you do it. These loans can also be used to improve a caretaker's home if necessary.
If you're willing to venture outside the VA, you can use a home equity loan, home equity line of credit, or FHA 203(k) loan. These can all either free up cash or help you directly finance your home repairs and improvements.
See What You Qualify For
Answer a few questions below to speak with a specialist about what your military service has earned you.