VA loans are for primary residences, meaning that borrowers are expected to live in the properties they purchase.
The VA developed occupancy requirements to ensure homeownership is the borrower's intended purpose – essentially ruling out the ability to purchase an investment property or vacation home.
The issue of occupancy is important but often confusing. So let's break down the occupancy requirements for VA loans.
How long do you have to occupy a home purchased with a VA loan?
Generally, homebuyers have 60 days from closing to occupy a home purchased with a VA loan. However, the VA does allow homebuyers in certain situations to go beyond the 60-day mark, potentially extending up to one year.
VA Loan Primary Residence Requirement
Veterans and active duty personnel who secure a VA loan must certify they intend to personally occupy the property as a primary residence.
Homebuyers have 60 days, which the VA considers a "reasonable time," to occupy the home after the loan closes.
But some buyers may find that two months isn't enough time – especially those on active duty or preparing to separate from service. Fortunately, in situations like these, the VA allows homeowners to go beyond that 60-day mark.
Still, the VA typically requires service members to set an occupancy date for less than 12 months after closing a loan. Service members must clarify the specific date occupancy will occur and the specific event that will make occupancy possible.
How long do you have to live in a house purchased with a VA loan?
There's no hard and fast rule from the VA, but most VA lenders require you to sign mortgage documents indicating you plan to live in the home as your primary residence for at least 12 months.
However, these documents also offer flexibility, allowing you to cease occupancy or sell the home before the 12-month period if you have a valid reason that your lender approves.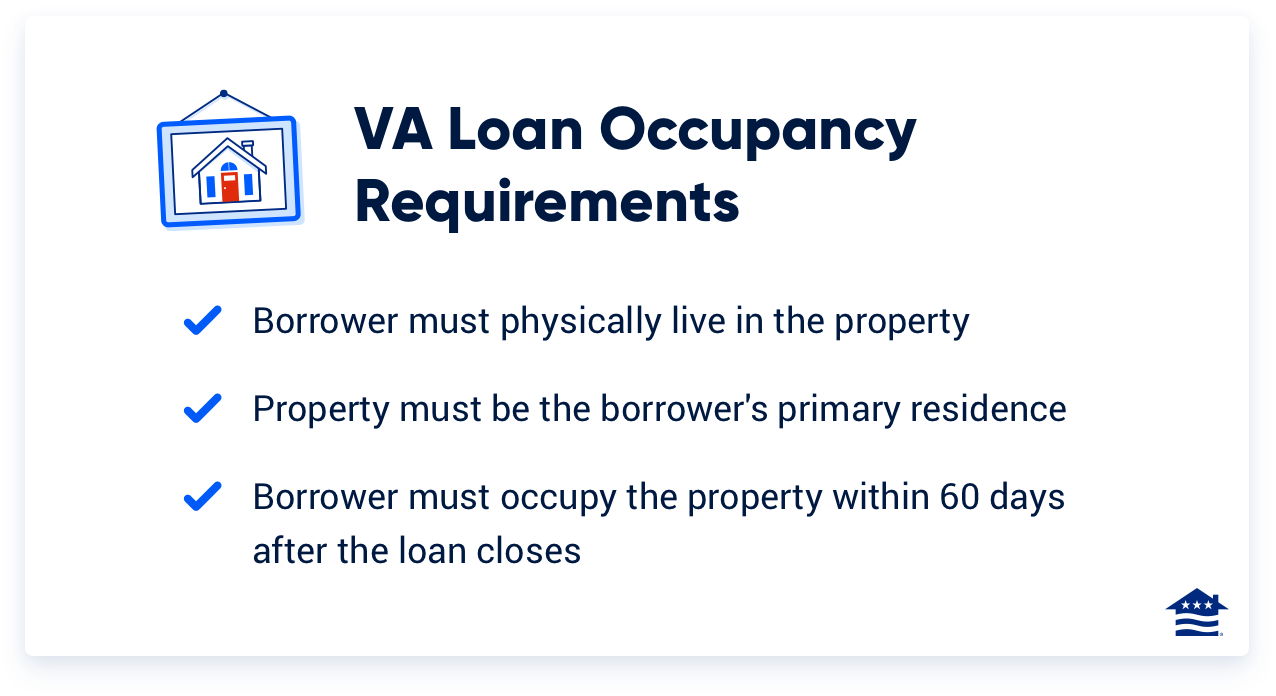 Can my spouse fulfill the VA occupancy requirement?
Yes, your spouse can occupy the home if you are an active duty military member who is deployed or cannot otherwise live at the property within a reasonable time. There are also some unique situations where the spouse of a Veteran can fulfill the requirement if employment issues are making reasonable occupancy difficult. Children and other dependents may also occupy the home while you're serving.
It's important to note that VA lenders have to consider the cost of a couple's separate living arrangements. That means any rental costs or expenses associated with the separate housing situations can be factored into the overall debt-to-income ratio.
VA Home Loan Payment Calculator
VA Occupancy Requirements for Active Duty
Active-duty service members who are deployed away from home or overseas can fulfill the VA loan occupancy requirement even if they are single or solely occupying the home. The VA allows both single and married active-duty service members to provide "valid intent" of occupying the home when they're deployed from their permanent duty station.
When lenders ask for "valid intent," they typically want to verify that you:
Use the home as your primary address
Maintained continuous occupancy of the home prior to deployment
Have not or do not intend to move
If you're away from home because you're serving on active duty, make sure to check with your lender about your unique situation.
VA Occupancy Exceptions
There are a few other scenarios and living situations in which a VA buyer can purchase a home and occupy it after the 60-day mark. Here are a few common situations in which an extension might be permissible:
Retiring Service Member
If you plan on retiring within 12 months after applying for your VA loan, you might be able to negotiate for a later move-in date. A retiring Veteran must include a copy of their application for retirement, and VA lenders will carefully consider if the retiree's income is sufficient to maintain a home loan.
Property Repairs or Improvements
If you've made arrangements with your lender to fix or improve a home in order to meet Minimum Property Requirements (MPRs), the VA allows you to occupy the home after the repairs have been made. You must still certify your intent to occupy or reoccupy that property upon completion of the repairs or improvements.
Intermittent Occupancy
The VA allows for intermittent occupancy due to employment as long as the borrower has a history of continuous residence in the community and there are no indications of a primary residence established elsewhere. However, the use of the property as a seasonal vacation home will not satisfy the occupancy requirements.
Unusual Circumstances
If your circumstance doesn't match one of the above situations, you may submit a description of your particular circumstance to the VA for approval.
While the VA offers these exceptions, lenders also have their own standards that might affect occupancy requirements.
VA Streamline Refinance Occupancy Requirements
There's also a unique case for VA Streamline refinance loans. In these cases, Veterans only have to certify that they previously occupied the home.
For example, a Veteran who buys a home with a VA loan and then gets transferred overseas can rent out the home and still refinance that existing mortgage based on prior occupancy.
VA Occupancy Requirements for Renting Out Your Home
VA lenders need to prove that you plan to use your VA loan to purchase a home as your primary residence, so you must agree to occupy the house yourself for at least 12 months. After that, you can rent out your current home without having to refinance.
We recommend speaking with your loan servicer before renting your VA loan home to someone else.
Reach out to a Veterans United VA loan expert today at 855-259-6455.
See What You Qualify For
Answer a few questions below to speak with a specialist about what your military service has earned you.