Veterans and service members who want to purchase multiunit, also known as multifamily, properties often see it as an investment opportunity. For many people, the idea of having tenants help pay some or even all of the mortgage is very appealing.
Can you buy a multifamily property with a VA loan?
The good news is you can buy a duplex, a triplex or a four-plex using your VA home loan benefits. However, the property purchased cannot be used solely for investment or rental purposes, and one unit must be your primary residence.
Multiunit Property Occupancy
The first major consideration with investment properties is occupancy. Veterans and active military members purchasing multiunit properties still need to meet the VA's occupancy guidelines. These loans are for purchasing primary residences that borrowers intend to live in full-time.
VA buyers looking to buy a multifamily property will need to intend to occupy one of the property's units as their primary residence. You wouldn't be able to use a VA loan to purchase a multiunit solely as an investment property.
Can you house hack with a VA loan?
House hacking with a VA loan is possible as long as you are using the property as your primary residence. This can be an appealing option for many Veterans looking to make extra income by having their tenants pay the mortgage.
A common example of this is a Veteran buying a multifamily property and living in one unit while renting out the other units. This is a great way for the Veteran owner to use their VA home loan benefit to build equity.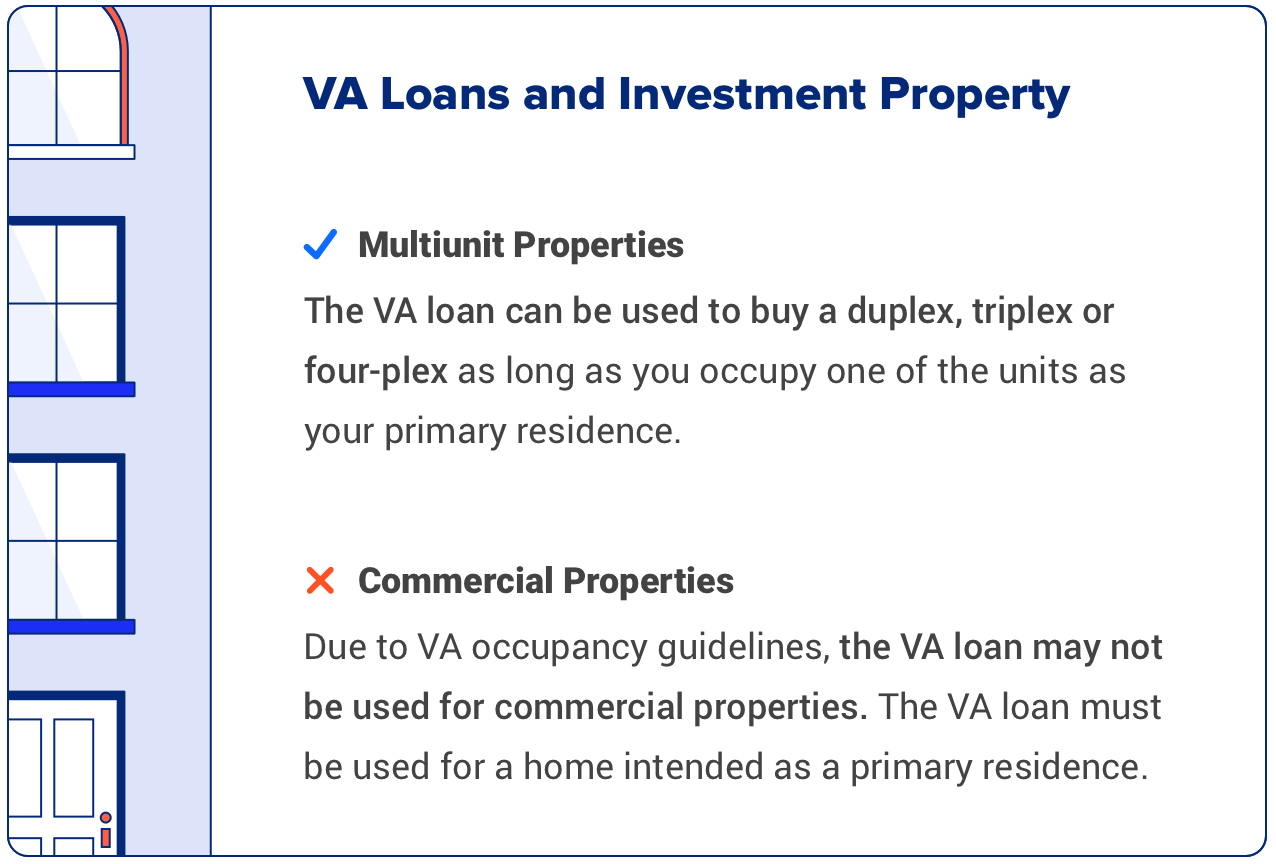 Can a VA loan be used for commercial property?
No, the occupancy guidelines are part of why you can't use a VA loan to purchase commercial properties. This loan program focuses on helping Veterans purchase homes they live in full-time.
You can't use your home loan benefit as what's essentially a commercial loan. So buying properties whose use is non-residential isn't going to work. Again, it is possible to purchase a residential property with your VA loan benefit, reside in one of the units, and rent out the others.

Mixed-Use Property and VA Loans
A mixed-use property is a building that is zoned for both residential and commercial use. These types of properties can pose a unique advantage to Veterans. However, it's important to note the commercial space cannot exceed 25 percent of the total square footage. Limitations on the size of the commercial space ultimately come down to the VA's Minimum Property Requirements.
As with other multiunit properties, the mixed-use space cannot have more than four units. The VA will also want the space to have a remaining economic life of at least 30 years, meaning the property must remain residential for the life of the loan.
Counting Rental Income
The second big issue is the rental income. Generally, the thought is something like this: You're going to buy a duplex, either inherit tenants or quickly land some and then have them pay most or all of your mortgage every month.
And that's a nice thought because if you can get a lender to count this future rental income, it is easier to qualify for the loan.
For example, if you're looking at a multifamily property that carries a $2,000-a-month mortgage payment, being able to count $1,000 a month in rental income means you only have to qualify for a $1,000-a-month payment.
The problem is you might not be able to factor that projected rental income into the equation when it comes to qualifying for the loan. Policies and guidelines on this can vary by lender, so make sure to talk to your lender beforehand.
Veterans United Guidelines
Here at Veterans United, we wouldn't consider future rental income as an effective income toward a mortgage unless you have a track record as a landlord. Typically, we would need to see documents showing a recent two-year history as a landlord or property manager.
In addition to the two-year history, you'll also need renters locked into a lease.

In terms of calculating the projected rental income, Veterans United currently uses the lesser of 75 percent of verified prior rent collected on the units or the appraiser's opinion of the property's fair market rent. VA buyers purchasing properties without existing tenants would need to have leases in place at closing.
Borrowers who qualify and want to count future rental income will also need six months' worth of cash reserves in the bank. That's six months' full mortgage payments, including taxes, insurance, and any homeowner association dues.
Generally, you won't need cash reserves for a multiunit property unless you want to count that rental income.
Every homebuyer's situation is different, especially when it comes to purchasing multiunit properties.
Talk with a Veterans United loan specialist at 855-259-6455 for a closer look at your specific scenario.
See What You Qualify For
Answer a few questions below to speak with a specialist about what your military service has earned you.