Energy Efficient Mortgages are an excellent option to pay for qualified improvements to increase a home's energy efficiency and save money on utility bills. EEM homes can provide increased protection against heat, cold, pollution and moisture, and are also great at reducing your carbon footprint.

What is a VA Energy Efficient Mortgage?
An Energy Efficient Mortgage, or EEM, is a loan program available through the VA which helps Veterans finance qualified energy efficiency-related home improvements.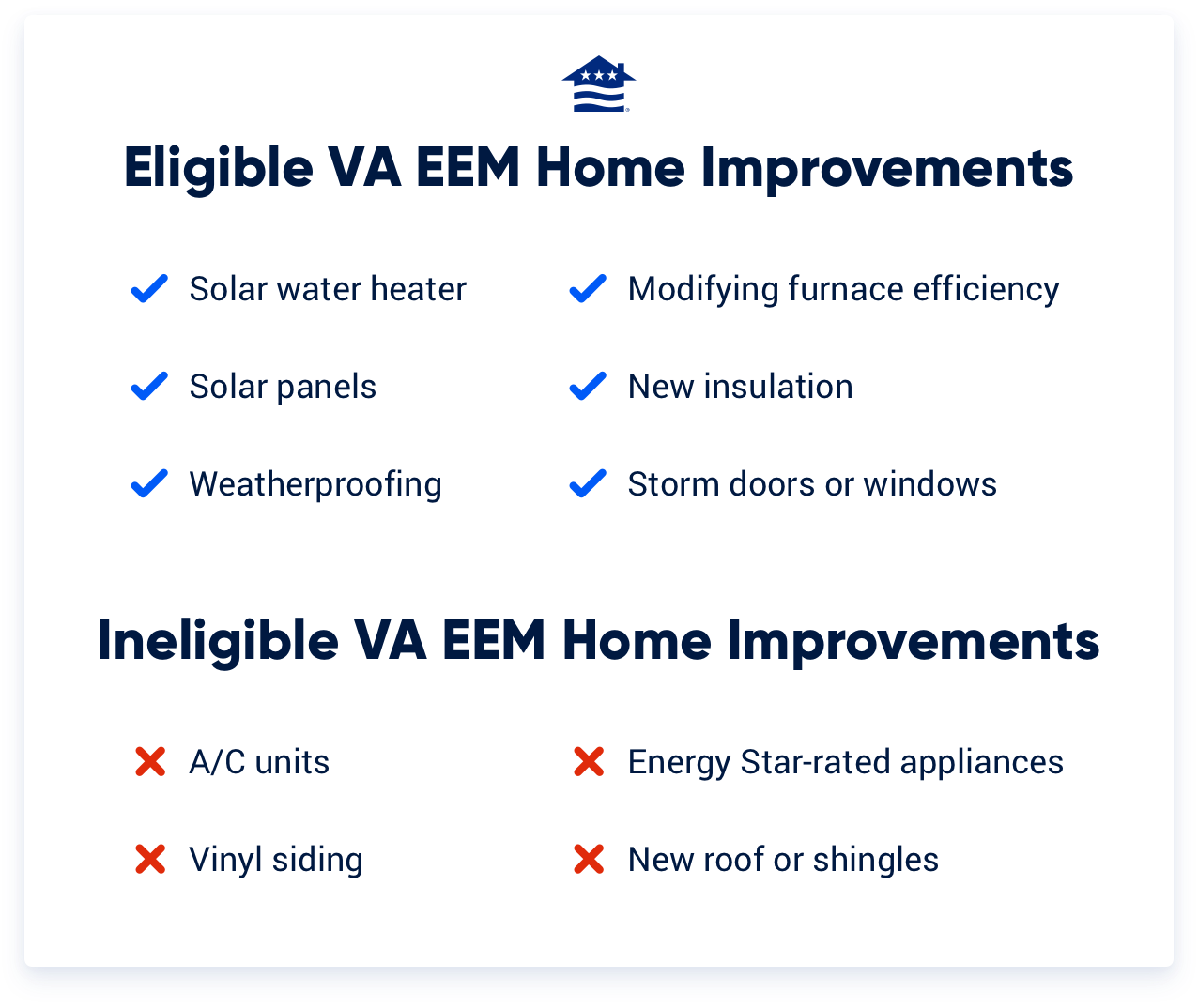 Types of VA Loan Energy Efficient Improvements

A VA EEM is a great way to finance improvements for your home, especially when used in conjunction with other VA loan products like a streamline refinance.
There are many updates you are eligible to make with the VA EEM, including:
Installing a solar water heater or insulating the current one
Adding solar panels
Weatherproofing additions such as caulk
Modifying furnace efficiency
Adding new insulation to walls, the ceiling, etc.
Installing a storm door or windows
Ineligible VA EEM Home Improvements:
VA EEM Improvements typically need to be considered permanent to the property. Window air conditioning units wouldn't be considered permanent, and adding central air conditioning to a home wouldn't likely increase a home's energy efficiency.
Ineligible updates can include:
Energy Star-rated appliances
A/C units
Vinyl siding
New roof or shingles
Pros and Cons of a VA Energy Efficient Mortgage
There are many benefits to making energy-efficient updates, especially through the VA. Even though you'll reap the benefits of savings in future years, it is important to recognize the upfront costs of such updates.
Pros:
Added comfort in all seasons
Reduced noise and pollution
Overall improved health
Potential resale value
Cons:
Borrowing more money to cover the cost of upgrades
Spending limit of around $6,000 in most cases
It may take years to fully recoup costs
3 Cost Tiers for EEMs
There are three cost tiers of VA Energy Efficient mortgages:
1. Improvements totaling $0 – $3,000: This is the easiest tier to get approved. You will generally need to provide a copy of a contractor bid or quote itemizing the costs, and you will need to provide manufacturer information for each product.
2. Improvements totaling $3,001 – $6,000: In addition to the information required in the first tier, you'll also have to obtain an energy audit showing a year's worth of utility cost averages for the home. These documents will then be reviewed to determine if the proposed EEM improvements will significantly impact the utilities to be cost-effective.
3. Improvements of $6,001 and up: It's challenging to obtain an EEM greater than $6,000. Requests for this tier have to be approved by the lender and the VA. In addition, it's important to understand that financing the cost of acceptable energy efficiency improvements cannot count toward meeting the minimum loan amount necessary for VA loans utilizing second-tier entitlement.
The Veteran typically has six months after closing to have the VA energy efficiency improvements completed. Small fixes can be taken care of before closing. Otherwise, the lender may decide to open an escrow account for the improvement funding.
Am I Eligible for a VA Energy Efficient Mortgage?
There's standard language on a VA appraisal that explains Veterans' ability to secure an energy-efficient mortgage. That same section also notes that the buyer may want to consider paying for a home energy rating score (HERS), a key step that kick-starts the process. Overall, if you meet the requirements needed for VA loan eligibility, you might be able to utilize an Energy Efficient Mortgage on a home purchase or a refinance.
What is a good HERS Index score?
The standard for new homes is a 100 HERS score. A score of 130 is ideal for a previously occupied home. HERS reports document how efficiently a home is operating and potential improvements. The HERS Index score ranges from 0-150. The lower the number, the more efficient a home is functioning.
VA Energy Efficient Mortgage Uses
There are three basic approaches to using a VA Energy Efficient Mortgage:
You can use an EEM on an already energy-efficient home. The VA home loan allows qualified borrowers to finance up to $6,000 worth of upgrades if the home meets the HERS' energy-efficient standards.
You can use an EEM to buy an older home that needs energy improvements. Improvements like thermal windows and insulation can be applied, so the home meets HERS standards.
You can refinance into an EEM if your current home needs energy improvement. If you have an outdated house that needs energy improvement, consider the benefits of refinancing under an EEM.
In the long run, an EEM can pay terrific dividends and reduce your carbon footprint. But every buyer's situation is different.
Depending on the property and your particular interest, talk with a Veterans United loan specialist about your energy efficiency options.
Does the VA Pay for Solar Panels?
Unfortunately, there is no disabled Veterans solar program. The VA does not pay for solar panels for Veterans. However, the VA Energy Efficient Mortgage is a great way to make improvements like adding solar heating and cooling systems to your home.
See What You Qualify For
Answer a few questions below to speak with a specialist about what your military service has earned you.