The VA home loan program focuses on getting service members, Veterans and military families into "move-in ready" homes that are safe, sound and sanitary. It's not as flashy, but we should add "termite-free" to that list.
The VA requires a wood-destroying pest inspection in certain parts of the country and in low-rise and high-rise condo units when the VA appraiser observes a potential pest problem.
According to pest control company Orkin, termites damage more than 600,000 homes each, year and U.S. homeowners spend about $5 billion annually fighting them. The VA wants to prevent Veterans using their VA loan benefits from becoming part of that statistic where termites are common.
When is a VA Termite Inspection Required?
Termites are more prevalent in some places than others. More than 30 states require a pest inspection before a home loan closes. They're discretionary in others, although there's a handful of states where individual counties mandate an inspection.
While termite and pest inspections can be required, the VA, in most cases, does not allow the borrower to pay for it in all but nine states. That may change in the coming years, but for now, it's a consideration that lenders, real estate agents, and home sellers contend with, usually with little fuss.

VA Loan Termite Inspection Requirements by State
One of the first questions for VA borrowers is, "Will I have to get a termite inspection?" Unless you're pursuing a VA Streamline refinance, the answer is an unequivocal yes if the property is in one of these states:
Alabama
Arkansas
Arizona
California
Connecticut
Delaware
Florida
Georgia
Hawaii
Iowa
Illinois
Indiana
Kansas
Kentucky
Louisiana
Massachusetts
Maryland
Mississippi
Missouri
North Carolina
Nebraska
New Jersey
New Mexico
Nevada
Ohio
Oklahoma
Pennsylvania
Rhode Island
South Carolina
Tennessee
Texas
Utah
Virginia
West Virginia
Washington, D.C.
In other states, you'll need to get a pest inspection only if the independent VA appraiser notes an issue during the appraisal process. Pest inspections are merely discretionary in these states:
Alaska
Colorado
Idaho
Maine
Michigan (pest inspections are mandatory for all properties in the following counties: Allegan, Barry, Berrien, Branch, Calhoun, Cass, Hillsdale, Ionia, Jackson, Kalamazoo, Kent, Lenawee, Livingston, Macomb, Mason, Monroe, Muskegon, Oakland, Oceana, Ottawa, St. Clair, St. Joseph, VanBuren, Washtenaw and Wayne.)
Minnesota
Montana
New Hampshire (required only for the counties of Cheshire, Sullivan, Merrimack, Rockingham, Belknap, Hillsborough and Strafford)
New York (required for these counties: Bronx, Broome, Columbia, Delaware, Dutchess, Greene, Kings, Nassau, New York, Orange, Putnam, Queens, Richmond, Rockland, Suffolk, Sullivan, Ulster and Westchester)
North Dakota
Oregon
South Dakota
Vermont (inspections are mandatory for properties in the following counties: Bennington and Windham.
Washington
Wisconsin (inspections are mandatory for properties in the following counties: Columbia, Crawford, Dane, Dodge, Grant, Green, Iowa, Jefferson, Kenosha, Lafayette, Milwaukee, Ozaukee, Racine, Richland, Rock, Sauk, Vernon, Walworth, Washington, and Waukesha)
Wyoming
VA Loan Termite Inspection Map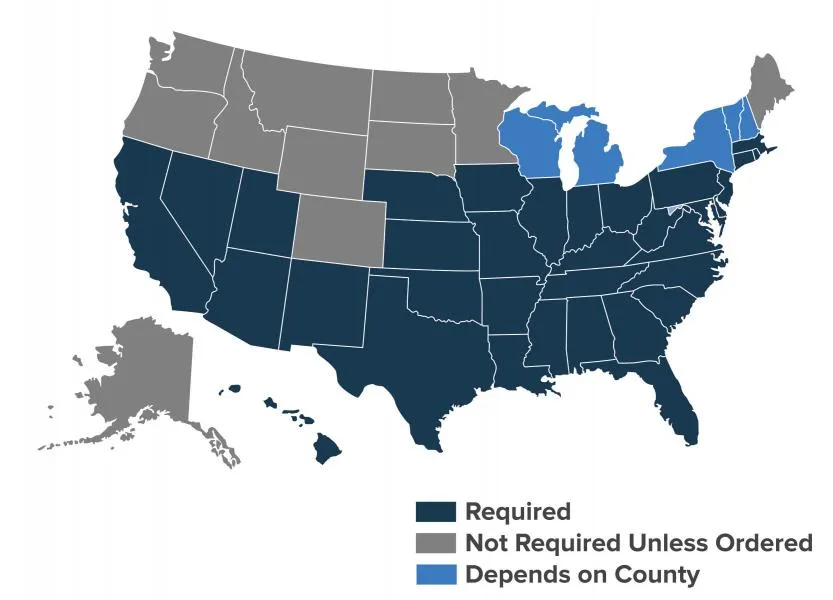 Professional pest inspectors will scour potential entry points around the house, both inside and out, looking for telltale signs of termite infestation. Damaged wood is obviously a dead giveaway, but there are other indicators that might signal a problem. Any issues will need to be cleared up before you can move forward with your VA home loan.
Many buyers found learning about the VA's Minimum Property Requirements helpful while preparing for a pest inspection.
VA Loan Termite Inspection Costs
VA lenders will often require an invoice that shows who paid for the termite inspection. VA borrowers aren't allowed to pay for the inspection on a home purchase in all but nine states. Both home sellers and real estate agents have historically expressed concern over this limitation, which almost always results in the seller covering this cost.
The nine states where VA buyers can currently pay for a pest inspection are:
Alabama
Arkansas
Arizona
California
Florida
Louisiana
Mississippi
Oklahoma
Texas
While paying for the inspection is off the table in most states, VA buyers everywhere may be able to pay for termite treatment. Some lenders, including Veterans United, allow buyers to cover repairs in some cases, even with issues noted on the Notice of Value.
See What You Qualify For
Answer a few questions below to speak with a specialist about what your military service has earned you.