At a Glance
Here we compare the primary differences between VA and conventional loans to show you when each option may be the best.
For the vast majority of military borrowers, VA loans are the most powerful and cost-effective mortgage program on the market.
These government-backed loans come with significant financial benefits for eligible borrowers, including purchasing with no down payment and out-of-pocket costs.
But there are certainly times when a VA loan isn't the best answer, and a conventional loan may be a better option. Here we break down the difference between the VA loan and conventional loans and when one option may be more favorable than the other.
Differences Between VA and Conventional Loans
| | | |
| --- | --- | --- |
| Down Payment | $0 | 3% - 20% |
| Private Mortgage Insurance (PMI) | No PMI | PMI for mortgages with less than 20% down |
| Rates | Typically lower than conventional | Typically higher than VA |
| Credit Score | Not set by the VA, but lenders often require at least a 620 FICO | Typically a 620 FICO minimum |
| Property Type | Primary residence | Primary, secondary, investment property and vacation homes |
| Program Fees | VA Funding Fee (1.25% - 3.3% of the loan amount) | No program fees |
| Special Borrower Requirements | Borrower must be a Veteran, service member or spouse with a valid COE | No special requirements |
Are VA loans better than conventional?
VA loans typically have lower interest rates than conventional loans and require no down payment. They also come without mortgage insurance costs, which limit your buying power.
A Deeper Dive into VA Loans vs. Conventional Loans
Conventional loans feature no government guarantees and adhere to the standards and requirements of government-sponsored enterprises Fannie Mae and Freddie Mac.
Credit benchmarks can vary by lender and loan type. A 620 FICO score is a common benchmark for conventional loans, although you may need a much higher score to contend for the best rates and terms.
Other differences include:
Down Payment
The flagship benefit of the VA loan is the VA loan's down payment requirements or lack thereof.
Most VA borrowers don't need a down payment to secure financing. If a VA borrower does need a down payment, it's typically due to diminished VA loan entitlement.
Conversely, conventional loans often require a down payment of at least 5 percent (in some cases, it may be 3 percent). According to the FED, the average sales price of homes sold in Q3 of 2022 was $542,900. A conventional borrower with 5 percent down would need to bring more than $25,000 to closing for their down payment.
Private Mortgage Insurance
Conventional loans with less than 20 percent down require private mortgage insurance (PMI). Depending on home price, credit score and other factors, PMI can easily run $150 to $200 monthly.
PMI protects the lender if you default on your loan and typically falls off after you reach 80 percent loan-to-value (the equivalent of placing 20 percent down).
To put that in perspective, 20 percent down on the previous example of $507,800 comes to $101,560 to avoid paying PMI.
VA loans do not require PMI, saving the borrower thousands over the life of the loan.
Rates
VA loan rates are often the lowest rates on the market. According to the mortgage data and analytics company
Optimal Blue
, throughout 2023, VA loan rates have remained, on average, .31 percent lower than conventional.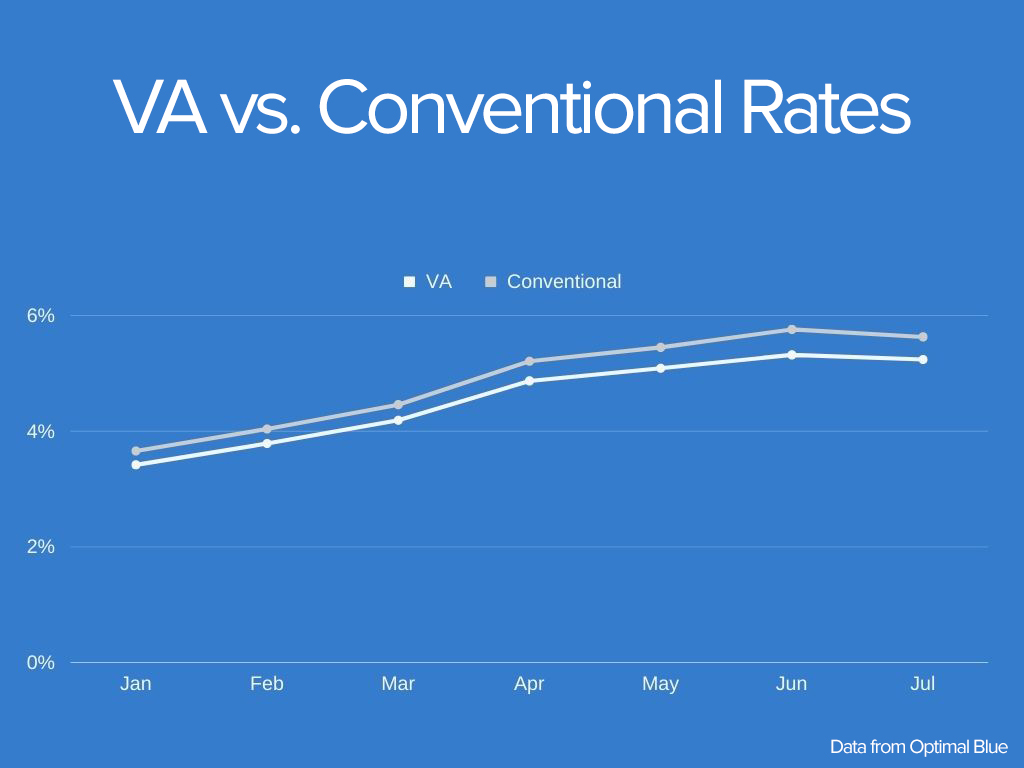 A .31 percent difference in rate may sound small but can equal tens or even hundreds of thousands in interest savings over the life of the mortgage.
VA loans are backed by the Department of Veterans Affairs, giving lenders the confidence to extend more favorable rates to borrowers who may not have perfect credit.
Credit Score
The Department of Veterans Affairs (VA) does not set a credit score minimum on VA loans, but most lenders do. Like conventional loans, lenders typically like seeing a 620 or better mortgage credit score.
Property Type
A significant difference between VA and conventional loans is that VA loans are only for primary residences. The primary residency requirement doesn't rule out duplexes or fourplexes, but to use a VA loan, you must intend to live in the property you purchase.
Conversely, conventional loans are available to purchase primary residences, vacation homes, rental properties and other investment property.
Program Fees
VA loans come with what's known as the VA funding fee. The VA funding fee ranges from 1.25 to 3.3 percent and is applied to every VA purchase and refinance loan. The VA funding fee is often rolled into the entire loan amount to make for a true $0-down loan.
Conventional loans do not have any unique fees like the VA funding fee.
Special Borrower Requirements
The last significant difference is who can use each loan type. VA loans are for Veterans, active military and surviving spouses with a valid Certificate of Eligibility (COE). Those who don't meet the basic service requirements won't be able to get a VA loan.
Conventional loans don't have any special borrower requirements. Anyone with the credit and finances to get a conventional loan may be eligible.
Summing Up VA Loans vs. Conventional Loans
When comparing VA to conventional loans, it's best to talk to a home loan specialist to compare your options. Even Veterans with significant cash reserves may still find VA loans as the better choice based on rates and lack of PMI. However, it's not always the case.