There's countless holiday traditions that families enjoy together, but perhaps none as creative (or adorable) as Elf on a Shelf. Recently, Elf on the Shelf has been gaining popularity as a new tradition in many more homes.
According to tradition, this mischievous elf comes out every year before Christmas and checks in on little children on behalf of Santa Claus. While this elf visits your home, he comes alive at night and tends to get into a little bit of trouble.
If you're ready to give your Elf on a Shelf a new home, now's the time to get the ball rolling on your VA home loan.
Rumor has it that military elves visit military families, too, and like doing some of the same things that our deployed service members do. And with a bit of camouflage and a dog tag, Sgt. Peppermint was born.
These ideas for Elf on a Shelf can also double as some great activities to keep Mom or Dad involved if your family is going through a deployment over the holidays.
1. Elf on the Shelf Joins the Army
It wasn't hard to make Sgt. Peppermint's elf-sized ACUs from some camouflage duct tape and his dog tags from a bit of aluminum foil.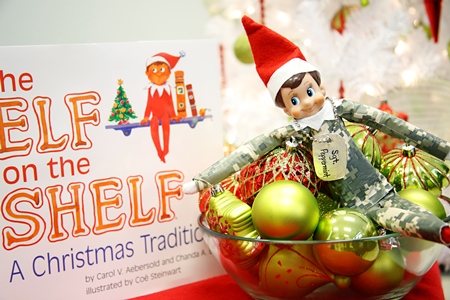 2. Elf Goes to "Basic Elf Training"
Create mini obstacles that your elf can do: hurdling ornaments, climbing the tree, chin-ups, and more.
3. Give "Elf Mail" to Your Kids from Mom or Dad
This is a great idea for during deployment. Have Mom or Dad who is deployed send a special letter to your child, then have your elf "deliver" it.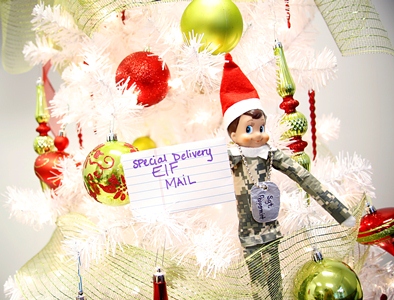 4. Elf on the Shelf Visits the Troops
Elf on a Shelf will ship orders to APO addresses so you can order an elf (an elf double), ship it to a loved one overseas and have them take pictures or Skype with the kids to show that the elf visited them one day.
5. Studying Up on Geography
Kids awake to find that the elf is studying up on the country where their parent is deployed/stationed.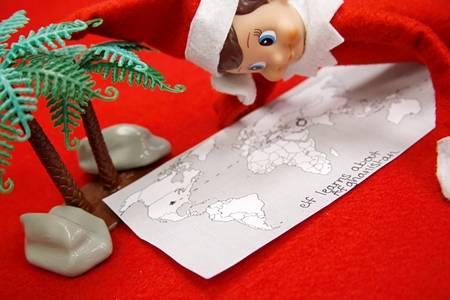 6. Elf Learns to Salute the American Flag
Pose elf saluting while facing an American flag.
7. Elf on the Shelf Does PT
Physical training is important for elves too. Elves need to be physically ready for the big day, so this elf is doing push ups.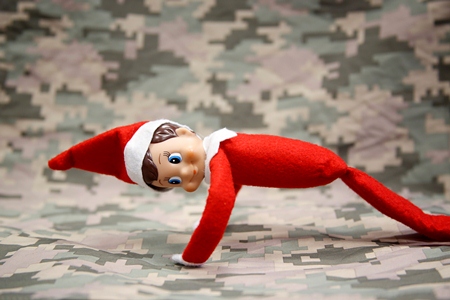 8. Elf Makes New Friends
Elf on the Shelf is always on the move. He knows how hard it is to make new friends at every new home. Have your elf hold a sign that says "Make New Friends but Keep The Old, One is Silver and the Other's Gold."
9. Operation Elf on the Shelf
Have the elf take part in a military operation with whatever toys you have. We just used walkie-talkies and a few action figures.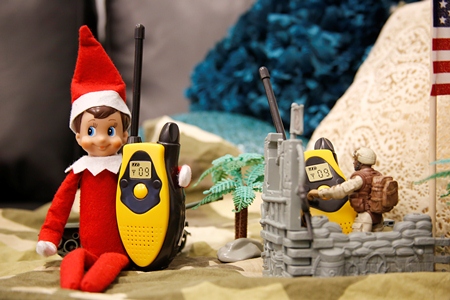 10. Zip lining with Soldiers
Sgt. Peppermint choose to zip line from our tree, but your elf could set up a zip line anywhere in the house.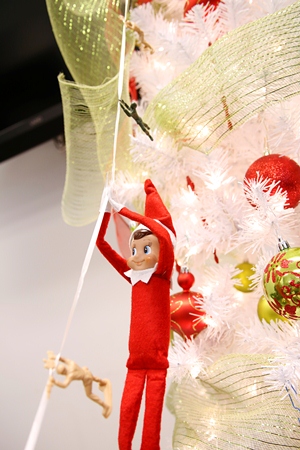 11. Elf on the Shelf Cozies Up to the Marine Corps
You should make this your own, pose your elf with your troop's patches or your military branch's gear. We thought Sgt. Peppermint looked pretty cute in this Marine Corps cover.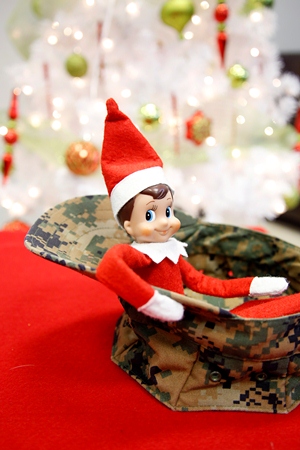 12. Elf and Combat Boots
Your elf can take a ride in combat boots, or have him try to lace them up and tie them.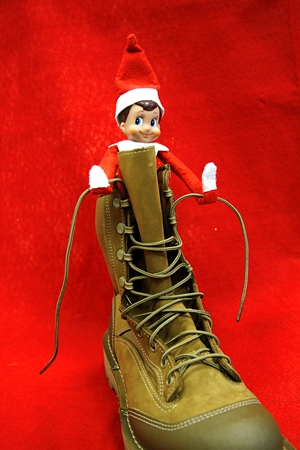 13. Shine Your Dress Shoes
Elf loves to be helpful. He can shine your dress shoes/boots (pretending to shine your combat boots works for a substitute).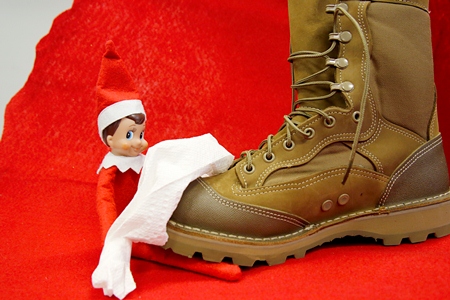 13. Elf Reads a Story
You often see Elf on a Shelf reading a book, but you can add a military twist by having him read a book about the military or go the extra mile and find a military-Christmas book like The Soldier's Night Before Christmas.
14. Defending the Presents from an Enemy Toy Soldier Invasion
Sgt. Peppermint can play lookout and defend the presents under the tree.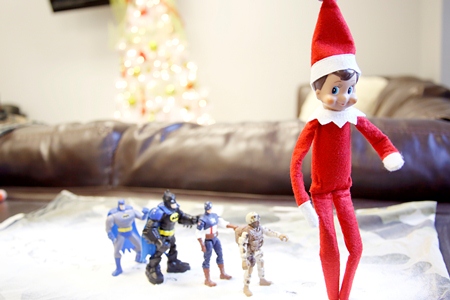 16. Elf on the Shelf Hangs with the Nutcracker
We have some military nutcrackers at our house, so we had Sgt. Peppermint spend a night out with the guys.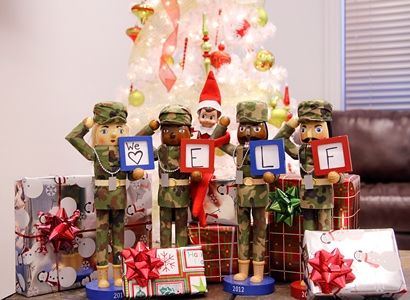 17. Elf on the Shelf Joins the Navy and Sets Sail
We outfitted elf with a sailor cap and set sail in the kitchen sink.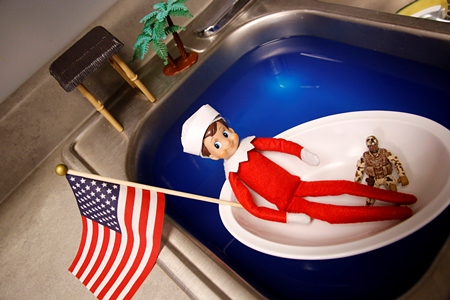 18. Elf on the Shelf Builds a Plane
Our elf likes to paint, and decided to paint a model Air Force plane. It also doubles as a surprise for the kids when they find out they get to finish the project and keep the plane.