Customer Profiles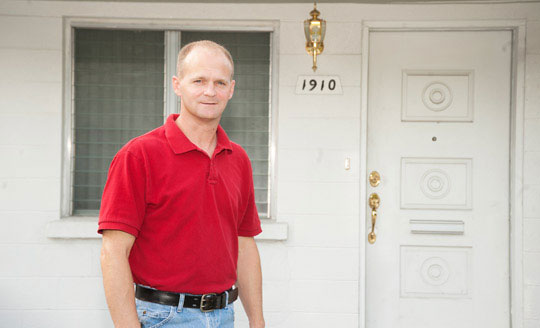 Read the story of Air Force Veteran Andrew Talitsch and his journey to becoming a homeowner thanks to Veterans United and the VA Loan Program
Andrew Talitsch: Air Force Veteran Becomes a Homeowner Thanks to the VA Loan Program
Bradenton, Florida — It wasn't until the keys were in his hand that Andrew Talitsch really believed homeownership was possible.
The New Jersey native bounced around a couple different jobs after his two-year stint in the Air Force ended in 1997. From sales and shipping to parking cars at Meadowlands Race Track, the work changed often during a five-year stretch.
Renting was one of the few constants.
His life gained a bit more consistency when he moved to Florida in 2002 and found work with a ventilation company. But he continued to rent apartments, unsure of how to utilize his VA home loan benefits and overwhelmed by the thought of purchasing a home.
Years passed. The housing bubble burst.
Suddenly, Bradenton, like communities across the country, was awash in short sales and foreclosed properties. Given the economic environment, a friend told Mr. Talitsch he should at least explore his VA benefits.
The former logistics expert knew next to nothing about mortgages and home buying. He hopped online, did some research and came across the website for Veterans United Home Loans.
Curiosity took root. Andrew picked up the phone and dialed the company.
"It was a shot in the dark," Andrew, 39, said. "I didn't know what price range I could afford, how they figure your mortgage, insurance, taxes. It was all new to me."
Unexpected News
He was connected to Matt Brand, a Veterans United loan officer who walked him through the process. Matt explained the loan prequalification process and gathered some initial information.
Within minutes, Andrew was prequalified for an $80,000 purchase with no need for a down payment. Matt could even point him to Bradenton real estate agents who work routinely with military members through Veterans United Realty, a network of more than 1,400 real estate agents nationwide. Borrowers who use a VUR agent can receive up to $500 upon closing.
A phone call that started as a lark now brought Andrew to the cusp of a huge decision.
"I didn't have to do anything except say, 'Yes, let's try it,'" he said. "I was pretty shocked. I kept on questioning them: 'Can I do this?' I still didn't believe it."
Things became more real when local Realtors came calling.
Over the next few weeks, he looked at dozens of houses. He peppered Matt Brand and later another loan officer, Brandi Ellerman, with scores of questions. He rounded up old tax returns and financial documents, a key part of getting formal loan approval.
"Anything I didn't understand, they would go back and explain it," he said. "I called almost every day."
Finally, Andrew found a two-bedroom house in his price range that met his needs.
He took a tour of the home and immediately told his Realtor he was ready to make an offer.
It was clear the property was in need of a new roof and a few other necessary repairs. Given the condition, Andrew offered the seller $63,000. Like all purchase agreements, the deal would be contingent upon the house passing a VA inspection and meeting all agency requirements.
The seller agreed. The inspection and repairs were completed in 30 days.
All the while, Andrew was still plagued by lingering doubt. He would lay awake at night wondering if the financing would hold up, if he really could purchase a house with no down payment and no money down.
Every call and every email to his Veterans United loan officer was met with reassurance.
"I worried, "Are these guys telling me the truth or just trying to make a sale? Will I be foreclosed on two months later?'" Andrew said. "They reassured me that it's not going to happen. They're not used car salesmen — they want your business, but they're here for you every step of the way."
Making 'Real Magic'
Andrew's closing proceeded ahead of schedule. When the day arrived, he sat in an attorney's office, still on edge, still waiting for the other shoe to drop.
Despite all those assurances, part of him still expected to have to write a four-figure check to cover closing costs. That was money he didn't have.
"I was still looking for the punch line," Andrew said.
Sure enough, he did have to write a check that day.
But the joke was on Andrew.
The seller gave Andrew a credit to take care of the closing costs. He owed about $20.
With his 30-year fixed-rate VA loan, Andrew's monthly mortgage payment is less than what he was paying in rent.
"If you think you can't buy a house, you're probably wrong," he said. "Just trust Veterans United. They're going to take care of you. They can make that real magic happen for you."
Ready to Get Started?
or call us now to speak to a VA Loan Specialist 800-884-5560
The Nation's #1 VA Home Purchase Lender*
A VA approved lender; Not endorsed or sponsored by the Dept. of Veterans Affairs or any government agency.