This is the second home I purchased using VU. The same experience both times. Everyone is very willing to get you into the house you want. Wonderful people!!!










All I can say is James was absolutely awesome!!!
There was a never a time that James did not contact me within a 1-2 hour timeframe with whatever question I may have had, even on the weekends. His customer service along with his team is UNMATCHED!!James kept me updated with the percentages and answer any questions that I was uncertain on with pricing, projected payments and made things clear and understandable.Absolutely incredible, never thought that I would be able to close on my dream home within 21 business days.Because of James and Stacy's guidance I found my dream. Almost 70 acres with a 3600 square-foot home, four bedrooms, four a full size bathrooms with a gourmet kitchen. It also has three fishing ponds, a beautiful swimming pool, a shooting range along with a 55x30 barn with a full-size bathroom in it as well. Because of James and the best Real Estate Agent Stacy Lynn Massar keeping me within the price range I asked for, I will never have to work again. My mortgage is more than affordable again all I can say, is absolutely unbelievable! After a little over 30 years in the Marine Corps never did I think I would find a dream home like this but with James' and Stacy's confidence that they could make it happen for me, it actually did.My Real Estate Agent, Stacy Lynn Massar and her Team were the best I've ever experienced in my 30 years of travel or buying homes. She stayed constantly locked into the process and was knowledgeable with all aspects of the appraisal, financial, inspection and closing aspect with buying a home. She worked well with the selling agent and was no nonsense in making sure that no corners were cut. She would update me daily with any changes or if I had a do list, ensuring that I completed task in a timely manner. She is very personable and would put me at ease when things started becoming stressful with the appraisal and inspection process. Absolutely the best!!! Stacy and James were the absolute reason that I was able to close within 21 business days.Gary D. Moran
SgtMaj USMC (retired)



I'd like to thank every Veterans United employee that helped make this home purchase possible! I appreciate you all.



Trust in this team! I would send everyone I know and love to Veterans United if I could.



Appreciated the fact they figured out a way for us to get into the place by paying off my car. But NEVER expected that is what we would have to do to get into our new home.
Response from Veterans United
Natalie, Thank you for allowing us to have information on your recent closed loan. We understand the process can be confusing at certain points. We always try to communicate to our clients what is the best option for them and to assist in closing. Eliminating some debt is a useful tool to help to get the loan approved. We want to say thank you for choosing Veterans United and thank you for your service.

Problem free... Very professional, polite and courteous staff..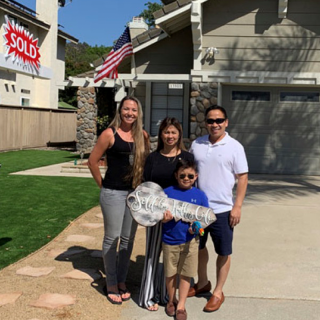 When we first met Travis Ward, he was just a loan officer. After a few months of interaction with Travis, he became our trusted friend. Travis is warm and articulates. He knows his product very well. He took his time to explain all of our questions within 24 hours. Besides those outstanding attributes, what stand out the most about Travis are he is very patient and his ability to listen to our questions/concerns, he waited for us to finish our questions completely before he responds. Travis never once (never) jumped in the middle of our sentences. We would definitely refer him to our friends and family members for VA home loan. It would be a mistake should Veterans United not to retain his service nor inadequately compensate base on his outstanding skills, personal and professionalism!! Warm Regards,Khoa, Susan and Nhat Huy (from San Diego, CA)


I chose to buy a home without the aid of a realtor, The Veterans United team was great at helping me through the process.