I have a very busy schedule and Chase worked with my schedule. He was super helpful and friendly. I am so happy I went with veterans United. They made this process smooth and easy.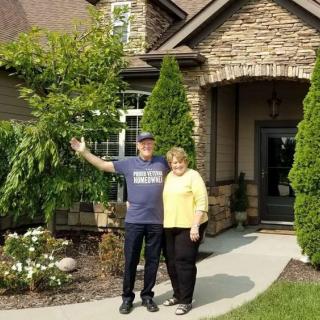 Our VA mortgage we obtained through Veterans United was the most efficient and effective mortgage we've ever experienced in over 40 years of mortgaging homes both while in the military and since retiring. We attribute this extremely positive experience to the professional and technical expertise of Steve Kincheloe and his team of mortgage professionals. We would strongly recommend Veterans United and Steve Kincheloe anytime someone is purchasing a home or refinancing their current residence.

Five stars!!! Your company absolutely proved why you're the best in the business. Keep up
The great work to make veterans home owners. You are making us veterans feel so appreciated and loved. Thank you.

I highly recommend Veterans United for their excellent customer service and ability to make the home buying experience quick and simple. Their friendly staff and online tools are an invaluable resource for Veterans, especially first-time home buyers.




You're next!
Join the ranks of our 200,000+ Proud Veteran Homeowners nationwide.



Veterans United Home Loans did a great job of walking us through the home buying process and providing a "To do" list to keep us on track with the items that were needed to close on our property.

Veterans United just gets it. They are atop the Financing world. They go above and beyond the call of duty, much like our nation's veterans. They explain well. They understand. They are quick and responsive. I deal with Nate Bitner who is a 10 Star top notch professional as well as his team. I'm sure most reps are true professionals @ VU. I'm amazed and thankful I chose VU for my business dealings.



Better rates and service exist elsewhere. I had continued to rely on VU because of my previous experience with them, but this loan felt disjointed and disappointing.Good luck in the future.


Read above about Alex Brown, very personable and helpful.


I recommended Zach and his team to my own parents!

Thank you Veterans United Home Loans for putting me in my new home!

Makes the whole process smooth and easy and is the reason I'm a repeat customer.

I highly recommend veterans United Home loans to any veteran because the whole network is consumed in helping you I had some bad moments it was really on my part but they were able to give me back on track from the time I got pre-approved to closing day was 35 days outstanding effort on their part



From the first moment, the house-buying process was simple and easy to understand. The website with videos explaining the steps is very helpful. Not every company understands VA Loans but Veterans United does.

Kevin was fantastic once again. We've used him previously for our first house and he did such a great job we came back to him to work our second loan.