Customer Profiles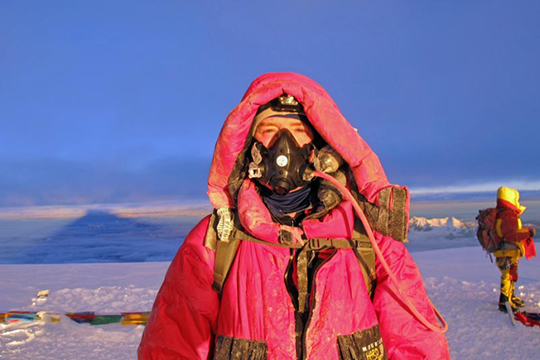 Saving $1,000 a Month Helps Matthew Tammen Afford a Climb of the World's Sixth-Tallest Mountain.
Matthew Tammen: Navy Veteran, Mountaineer Uses Refinancing to Scale His Dreams
26,906 feet.
That's as tall as 178 Statues of Liberty, or 48 Washington Monuments, stacked on top of each other. That's as high as most commercial airliners fly - over 5 miles up - where the minus 30 degree air is too thin to breathe.
That's the height of Cho Oyu, the world's sixth-tallest mountain. Just a few hundred feet shorter than nearby Mount Everest, the peak rises more than 8,000 meters above the Nepal-Tibet border, and dares even the most experienced climbers to reach its tip.
Summiting the mountain takes an incredible combination of patience, physical endurance and training. Leave it to a Navy veteran to overcome all obstacles and make it to the top.
Mountains and Sea
Matthew Tammen began his career in the U.S. Navy in 1979, graduated from the Naval Academy four years later and served 20 years as a submarine officer. He retired as a Lieutenant Commander, and settled down with his wife, Jennifer, and their three kids in Puget Sound, Wash.
They later purchased their dream home, which overlooks Mount Rainier. The family loves the outdoors, and the proximity to the beauty of nature is critical for them.
"We love the mountains and sea," Jennifer said. They take trips to the mountain for skiing and hiking, and enjoy taking their kayaks out on Puget Sound.
Matthew loves the outdoors too, but takes a more adventurous angle. An avid climber, he has summited mountains like Mount Aconcogua in Argentina and Mount McKinley in Alaska.
But looking at Mount Rainier every day kept nagging at Matthew, reminding him of the dream climb he still hadn't made. That challenge was climbing Cho Oyu.
The strength and determination he gained from the military could take him to the top, but his finances could barely get him to the foot of the mountain.
That's when Veterans United Home Loans threw Matthew a rope.
The Cost of Dreams
Climbing one of the world's tallest peaks takes tenacity - and a lot of money. Hiring guides, buying gear and traveling to some of the most remote places on earth can set mountaineers back tens of thousands of dollars.
With kids and a mortgage, the financial burden for the Tammens would be too much to bear. But their house, which they had purchased in 2004, was ripe for a refinancing, and a lower interest rate could save them a mountain of money.
As Matthew and Jennifer shopped around for lenders, they felt stranded and alone. The Tammens couldn't obtain a refinance because the value of their house had fallen because of the recession.
"In my opinion, they just didn't try very hard to help us," said Jennifer.
But Veterans United Home Loans stepped in to work with them when other lenders wouldn't. With the help of Veterans United loan officer Kody Gilbow, the Tammens were able to refinance their mortgage and walked away ecstatic.
"Our mortgage payment went down by $1,000 per month," Jennifer said.
Budgeting for a Goal
The price tag for Matthew's expedition was set at $25,000. At $1,000 saved per month, he'd have to wait two years to make the attempt to summit. Matthew saved and trained four hours per day for 14 months to have the physical stamina to summit.
No stranger to tough challenges, Matthew persevered. In fall 2013, he and his team flew into Kathmandu, Nepal, and then crossed into Tibet to begin a six-week trip. After struggling up the 8,200 meters for weeks, they finally reached the summit.
After two years of work, he reached his goal. On the morning of Oct. 1, 2013, Mathew saw the sun rise from the summit of Cho Oyu. Just 20 miles away, Mount Everest was illuminated in the morning light.
Matthew accomplished his goal, and the whole family came out on top by getting a better deal on their dream home.
"When you refinance, you may not think about big mountains and life-long dreams, but you should," said Jennifer. "He couldn't have made it without Veterans United."
Ready to Get Started?
or call us now to speak to a VA Loan Specialist 800-884-5560
The Nation's #1 VA Home Purchase Lender*
A VA approved lender; Not endorsed or sponsored by the Dept. of Veterans Affairs or any government agency.