Customer Profiles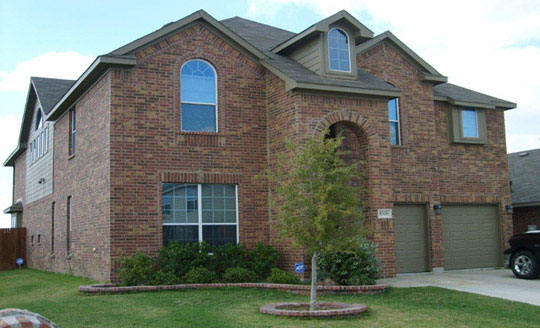 See Stephen Hall's story and how Veterans United Home Loans helped this Gulf War Vet boost his credit score and secure a home loan.
Stephen Hall: Gulf War Vet Boosts Credit Score And Secures VA Lending
Fort Worth, Texas — Staff Sgt. Stephen Hall transported soldiers and supplies as an Army truck driver during the Persian Gulf War.
Part of the 101st Airborne, Stephen narrowly escaped harm in the winter of 1990 after a pair of insurgents pulled their truck alongside his rig. Stephen swerved and ran the smaller vehicle off the road moments after a passenger pulled the pin of a grenade.
He returned to Fort Campbell in April 1991, two months after the war's conclusion, barely worse for the wear.
His second tour of Iraq would prove disastrously different.
Stephen left the Army in 1994 but re-enlisted just two years later. He switched his specialty from trucks to communication and ultimately found himself stationed in Germany on the eve of the 2003 Iraq invasion.
He returned to the war-ravaged country in May 2003 and was stationed in a presidential palace in Central Baghdad. Five months into his deployment, on Halloween night, mortar rounds started streaking into the compound.
Stephen was among the first soldiers hit by the blast. The shock wave ripped the gear from his body. Dazed, he tried to stand and head for cover as sniper rounds pelted the ground.
He couldn't stay upright and started crawling for the closest door. Finally, the mortars and sniper fire ceased.
Stephen sat up to find blood pouring from his legs. The blast had shorn the skin from the right side of his face. Doctors managed to save his left leg, which took the brunt of the shrapnel.
He was ultimately transported to Germany to begin a long and painful rehabilitation. Doctors there told him that at best he would have a severe limp the rest of his life. At worst, he would never walk again.
After months of intense therapy, Stephen proved them wrong.
He eventually returned to the U.S. to work as an Army instructor in Georgia. Despite his perseverance, lingering pain took its toll. He fought to stay in the Army but ultimately received a medical discharge in July 2006.
Starting a New Life
It didn't take long for restlessness and boredom to set in. In need of a change, he decided to move back to Fort Worth and live with his sister while pursuing work in HVAC repair.
Stephen soon realized the physical demands of the job would be too much for his injured legs and back. He decided to turn back to an old love and took a job as a commercial truck driver in the oil industry.
Life on the road suited him well. But soon a new love entered his life: The girl next door.
Stephen hit it off with Brenetta, the woman who lived next door to his sister's apartment unit, in the winter of 2007. They got married in August 2009 and found themselves ready to move into a home of their own.
From the outset, Stephen knew he wanted to use his VA loan entitlement to purchase a home. He had heard about the program during his Army days.
The VA Loan Guaranty program allows qualified service members to purchase a home worth up to $424,100 (and more in high-cost parts of the country) without a down payment. VA loans typically feature lower rates and more buyer-friendly terms than conventional financing. These government-backed loans have helped more than 18 million service members become homeowners since 1944.
Stephen and Brenetta found a house they liked and started working with a local lender. But their credit scores raised red flags with the company's underwriters and their loan application was ultimately rejected.
Deflated, the couple decided to step away from their home search and catch their breath. Weeks passed, and soon Stephen was back online, researching VA loans. He found the website for Veterans United Home Loans, the nation's leading lender for VA home purchases, and read through some of the testimonials from previous customers.
Stephen liked what he saw and filled out an online form. He then headed to the Better Business Bureau to dig a little deeper into Veterans United. The company, as Stephen discovered, has maintained an A+ rating for five consecutive years.
Boosting Credit, Buying a Home
He soon received a call from loan officer Jeff Dynak, who counseled Stephen on how to boost the couple's credit scores. Jeff told them they wouldn't currently qualify for a VA loan, but he pledged to help them take concrete steps to raising their scores and qualifying for a loan.
"He kept calling back, saying, 'Let's try this, let's try that,'" Stephen said. "Jeff stuck with us from day one. I just followed his advice."
It took a few months, but the Halls raised their scores enough to qualify. They circled back and put an offer in on the same home they fell in love with earlier in the year.
Finally, after weeks of uncertainty, Jeff called with good news regarding the underwriting and approval process. The loan was a go.
They purchased a $239,000 home without putting down a single dollar.
"The guidance, the support, the late-night phone calls — you don't let the person down," Stephen said of Veterans United. "Jeff never quit. I would tell military members to try Veterans United Home Loans first."
Ready to Get Started?
or call us now to speak to a VA Loan Specialist 800-884-5560
The Nation's #1 VA Home Purchase Lender*
A VA approved lender; Not endorsed or sponsored by the Dept. of Veterans Affairs or any government agency.