Customer Profiles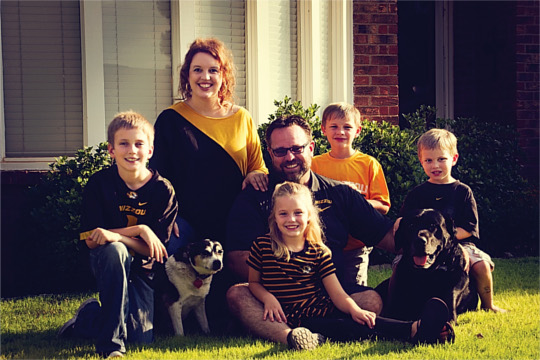 After Moving to Shepherd a New Church, Ned Nugent Puts Down Roots With a VA Loan.
Ned Nugent: Pastor, Army Veteran Turns to Veterans United For Guidance
Seminole, Texas — For Army veteran and Pastor Ned Nugent, the decision to move his family of six from Missouri to west Texas wasn't entirely his own.
"We felt that God was calling us to move," said Nugent, "and we felt like Seminole, Texas, was the place He was bringing us to."
But before he and his family could make the move, he had some worldly constraints to work around –getting his sizable family and half-dozen pets into a home. But after six years in the military, a challenge that large was something he could handle.
Finding Direction
Nugent's career in the military started in his teens. High school was a confusing time for Nugent.
"I had no real direction at that time in regards to college, or what I'd do," he said. He sought the structure, camaraderie and sense of purpose the military provided.
With few other options in his small hometown, he followed the footsteps of his father, who served in the Navy. In December 1988, he took the cold trip to St. Louis to visit an Army recruiter and sign on the dotted line.
Nugent joined the Army as a 17-year-old high school senior in Missouri and separated as an E-4 Specialist, though he served in an E-5 Non-Commissioned Officer billet while with the 2nd Armored Cavalry Regiment in Neuremburg, Germany. He was also among the first on the ground during Operation Desert Storm.
During his service, he received two Army Commendation Medals, two Army Achievement Medals, a National Defense Service medal, a Valorous Unit Award and a host of other commendations. Nugent's specialty in the Army was military intelligence. He watched enemy troop movements on maps, estimated what weaponry might be with the enemy and gave advice on attacks.
"I had to learn to be strong pretty quickly, knowing my world was changing pretty fast," he said. "The military helped me learn to adapt to changes and handle change much easier. It was leadership training throughout."
He retired from active duty in June 1992, and stayed in the Reserves until August 1995.
A Man of the Cloth
After retiring from the Army, he migrated toward a much different calling: pastorship. He ditched the camouflage, attended seminary in Kentucky and eventually settled down with his growing family back home in Missouri.
The family had been praying about what God would have them do, since they felt called to move. Their prayers were answered when a friend of Nugent's put in a good word at a Texas church in search of a pastor. But the transition wasn't easy.
"We owned our home in Bethany, Mo., but it took over a year to sell," he said. "In the meantime, our new church allowed us to live in their mission house. The house was a blessing, but it was small for the size of our clan."
So Nugent, his wife, Lisa, and his children Liam, 11, Colin, 8, Annie, 6 and Quinn, 4 – along with more than a half-dozen pets – piled into the mission house, waiting for their old home to sell. While they waited, the family dreamed and planned. By the time their Missouri home finally sold, Ned knew just what to do.
A Smooth Transition
"I wanted to pursue a VA loan, but was unsure of who to talk with," he said. Having previously visited Veterans United online, he filled out a simple contact form and took the first step toward a new home.
"It was only a few moments after I entered my information that I received a call from Veterans United," he said.
From there, Loan Officers David Hickman and Adam Crutchfield methodically walked Ned and Lisa through the process. Along the way, the Nugents discovered it was easier than they had assumed.
Ned and Lisa searched intently for homes to fit a family of six (plus pets), but hit a few roadblocks. For the Nugents, finding the right-sized home at the right price wasn't easy, but, with the help of Veterans United, they made it through.
A Place to Call Home
Their new house fit them all snugly, with enough elbow room for the kids, pets and, most importantly, a kitchen table. The mission house was a stroke of luck for them, but lacked the space for family meals, an integral part of the Nugents' lives.
"My wife and I know that it is important as a family to sit down and eat together," he said. "We truly missed that. We were so blessed to find the home that we did."
Aside from meals together, the Nugents can now enjoy their huge backyard and just hang out together.
"There's not a single day that goes by that I do not hear, 'I love our home, don't you?'" said Ned. "It's safe to say that Lisa is absolutely home."
Through their home closing, they felt like an important part of the Veterans United family.
"I absolutely loved this experience with them," he said. "I have purchased homes in the past, and Veterans United surpasses all others in every category, especially customer service. It was more than a loan, it was being part of a family."
Ready to Get Started?
or call us now to speak to a VA Loan Specialist 800-884-5560
The Nation's #1 VA Home Purchase Lender*
A VA approved lender; Not endorsed or sponsored by the Dept. of Veterans Affairs or any government agency.