Customer Profiles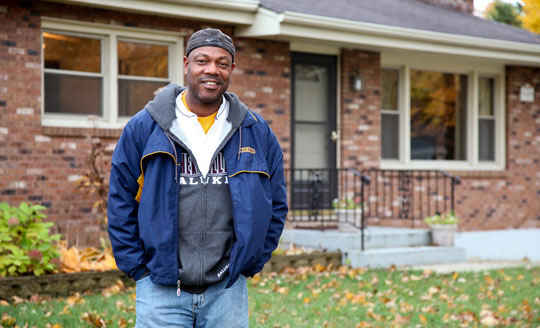 Read about Mario Batiste, Hospital Corpsman-turned-Naval-Instructor returns to Chicago, capitalizes on VA benefits to become a first-time homeowner
Mario Batiste: Navy Veteran Uses VA Benefits to Become a First-Time Homeowner
Grayslake, Illinois — Mario Batiste joined the Navy for one reason: College tuition.
Bent on becoming a radio disc jockey, the Chicago native expected to serve four years and then use his GI Bill benefits to study broadcasting. But that plan began to fade when Mario was sent to Naval Hospital Corps School after boot camp.
He was immediately enthralled with medical training and the life of a hospital corpsman. Mario spent the next decade at Naval hospitals and clinics in Washington, Hawaii and California.
He left the Navy at age 30 and decided to pursue that dream of a college education — only this time to earn a degree in biological science. But college life proved more humdrum than he expected, and Mario began to miss his old life. About a year after his separation he joined the Naval Reserves.
His second attempt at college stalled in 2004 when he deployed to Kuwait with an expeditionary medical force. After a year in the Mideast, he was sent back to Washington state to help beef up the Navy's depleted stateside medical staff.
He left Washington for good in 2007, married his long-time girlfriend, Sherri, and returned to southern Illinois to take one more crack at college.
It didn't last long this time, either.
Heading Home
Soon after arriving Mario spotted a job opening he couldn't pass up: Health technician at Naval Station Great Lakes, which is the Navy's largest training station. It's also on the north side of Chicago, about an hour from where Mario grew up.
The Navy offered him the job. Mario accepted immediately and is still teaching future generations of hospital corpsmen.
"Learning how to treat people, that compassion for the sick and injured, that's what I loved being close to," he said. "To teach these younger kids how to do that, it's amazing."
Lifelong renters, Mario and Sherri decided their move to Chicago marked the perfect time to become homeowners. Mario had heard military friends talk about VA loans but knew next to nothing about the program.
He went online to do some research and found the website for Veterans United Home Loans. Mario filled out a form on the site and soon received a call from loan officer Aimee Hall.
Aimee explained the requirements and the loan process to Mario, who was prequalified for a loan within minutes. She also helped Mario connect with a real estate agent from Veterans United Realty, a national network of more than 1,400 agents who work routinely with military borrowers and understand the power of VA loans.
Becoming Homeowners
Mario and Sherri looked at properties for months before finding one they truly felt could be home: a 50-year-old, four-bedroom one-story with a lake on the property. The couple made an offer, received a favorable counteroffer and came to an agreement with the seller. They were ecstatic when the home appraised for more than the purchase price, another signal that they got a great deal.
The sellers agreed to cover all closing costs, which is a key benefit of VA loans. The agency limits what veterans can pay out of pocket and allows sellers to pay up to 6 percent of the loan amount in closing costs and concessions.
Mario became a first-time homeowner in September 2011. He did it without spending a dime up front on a down payment, closing costs or any kind of mortgage insurance.
"To military friends, I always stress the VA loan now," Mario said. "I tell them to call Aimee Hall. She will get you where you want to go, plain and simple. Aimee held my hand all the way through."
Ready to Get Started?
or call us now to speak to a VA Loan Specialist 800-884-5560
The Nation's #1 VA Home Purchase Lender*
A VA approved lender; Not endorsed or sponsored by the Dept. of Veterans Affairs or any government agency.