Customer Profiles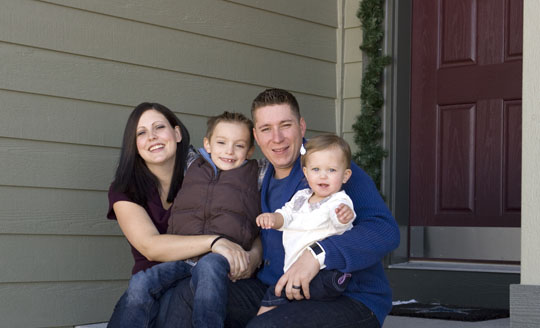 See how Veterans United Home Loans helped Army Veteran Jason Foster with his family's relocation.
Jason Foster: Veterans United Guides the Relocation Process for Military Family
Colorado Springs, Colorado — Jason Foster served two tours in Iraq during his nearly 10 years in the Army. His time in the Mideast kept him away from friends and family for a combined 27 months of his life.
Between his two deployments, Jason met his wife. He was stationed at Fort Carson when mutual friends introduced the pair. Finding a connection immediately, the two ended up dating and eventually married in November 2004.
Jason and his new family were separated while he was deployed again for his second term in Iraq. But he returned home earlier than expected after getting injured. The family was living in Washington, D.C., when they received Jason's medical retirement papers. With those hand, Jason and his wife began scouring the Internet in search of a home for their growing family. They focused their search on Colorado.
"We love the Midwest, and my wife has family there," Jason said.
It wasn't long until all signs pointed toward Colorado living.
Long-Distance Loan
A job opened in Fort Carson, and Jason found information on the nursing program at the University of Colorado at Colorado Springs. Jason and his wife concentrated their online search efforts on finding a rental property in the Colorado Springs area.
Then the couple found an option they never considered before: Building a home. A local builder let them know building the home they wanted would actually prove cheaper than renting. That's when Jason got in touch with local real estate agent Kris Korinek.
Jason presented Kris with quite the challenge. He and his family were going to have to remain in Washington, D.C., through the process of buying and building their home.
Kris pointed Jason to Alice Schneider and the Colorado Springs branch of Veterans United Home Loans. Alice would not only help Jason secure a VA loan, a benefit earned by his service, but she would also walk him through a long-distance loan.
"I agreed to work with Alice because of the way she greeted us, and she was able to work with us over long distance," Jason said. "She called every day to make sure everything was going OK on a personal level, since she knew we were stressed buying a home from Washington, D.C."
A New Beginning
The distance wasn't the only thing between Jason's family and their new home. During his deployment, Jason had problems with one of his credit card companies. The effect it had on his credit was a giant speed bump on the road to obtaining his VA loan. But with Alice's help Jason was able to pay off his debt and increase his credit score.
"We got it paid off only because Alice helped us out,"he said.
Despite the speed bumps and long distance, all necessary paperwork and materials were completed quickly.
"I've owned a house before, and I've never had any customer service like that,"Jason said.
Jason and his family are finally starting a new chapter in their lives. In September 2011, they officially moved to Colorado and are living in their beautifully built dream home. No more deployment. No more speed bumps. It's just Colorado living from now on.
"I'm looking forward to settling down and having stability in our lives," Jason said.
Ready to Get Started?
or call us now to speak to a VA Loan Specialist 800-884-5560
The Nation's #1 VA Home Purchase Lender*
A VA approved lender; Not endorsed or sponsored by the Dept. of Veterans Affairs or any government agency.