Customer Profiles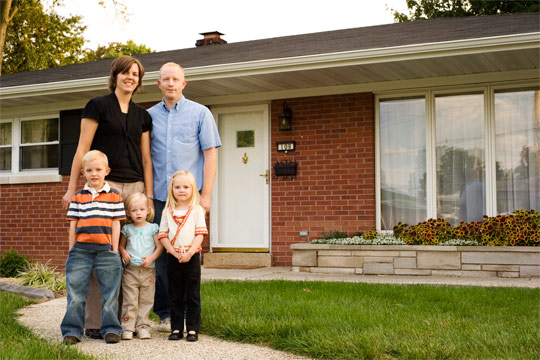 Read the Hebdon Family's story and how Veterans United helped Adam and his family into their first home.
The Hebdon Family: Veterans United Helps Physician and Family Buy Their First Home
Belleville, Illinois — Medicine brought Capt Adam Hebdon to Illinois.
The Utah native took advantage of the Air Force's Health Professions Scholarship Program to cover the high costs of medical school. Program candidates are commissioned officers in the military Reserves while attending medical school. Adam began a four-year stint with the Reserves upon enrolling at Touro University in Nevada.
Upon completion of medical school Adam was accepted to the Family Medicine Residency at Scott Air Force Base and St. Elizabeth's hospital in Belleville, Ill., just east of St. Louis.
Long-time renters, Adam and his family were ready to purchase a home in their new community. They connected with a conventional mortgage broker who required them to have a co-signer. After much effort they found a well-maintained short sale within their budget. The seller accepted their offer but the deal fizzled after the bank simply sat on the property.
Frustrated with their first attempt, Adam and his wife resigned themselves to renting. Adam settled into his residency and began his active duty commitment. The following year they learned that they now met the eligibility requirements for a VA loan.
Ready to Buy
This long-running home loan program allows qualified service members to purchase a home worth up to $424,100 (and more in high-cost parts of the country) without a down payment. VA loans typically feature lower rates and more buyer-friendly terms than conventional financing. They've helped more than 18 million service members become homeowners since 1944.
Rekindling their dream to own a home and with a better sense of the community, Adam and his wife found a great neighborhood with several promising homes listed for sale. They began looking for preapproval.
Adam checked with his bank, one of the country's largest financial institutions for military members. The bank required a fee for preapproval which didn't sit right with the Hebdons. Unsure of their options, they begrudgingly paid the money and began looking at homes.
After walking through half a dozen homes they arrived at a charming brick ranch within their budget that exceeded their expectations. They knew this was the home they had been searching for and were prepared to make an offer.
Going the Extra Mile
After their experience obtaining preapproval Adam wanted to find a local lender he could trust that had his family's best interest in mind. Their real estate agent, a family friend, recommended Mike Dapkus, who manages the Belleville branch of Veterans United Home Loans.
As a first-time home buyer, Adam grilled Mike with questions about the different types of loans available, the VA loan program and the loan process in general.
"Mike made the whole process so easy," Adam said. "He really knew his stuff and went the extra mile to help us understand the details of this huge decision we were making. He guided us through every step of the way."
Having just finished schooling and without a large nest egg, the Hebdons needed the financial flexibility only a VA loan could provide. They came to terms with the seller and purchased their first home without putting down a single dollar — or, for that matter, paying any preapproval fee.
"A VA loan was the only way we could purchase a home at this stage of our lives," says Adam. "It is an excellent opportunity and benefit for military members who haven't yet been able to set aside enough for a down payment."
Ready to Get Started?
or call us now to speak to a VA Loan Specialist 800-884-5560
The Nation's #1 VA Home Purchase Lender*
A VA approved lender; Not endorsed or sponsored by the Dept. of Veterans Affairs or any government agency.