Customer Profiles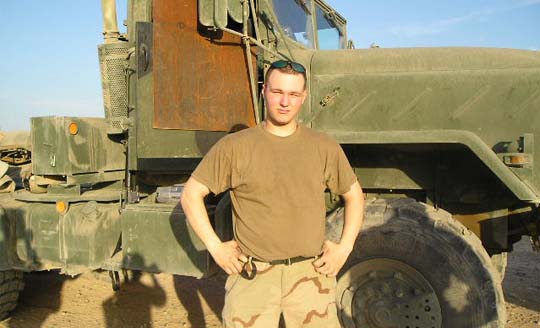 Veterans United fights to save appraisal, helps this veteran from the 983rd Engineer Battalion use his VA Loan benefits
Christopher Robinson: Veterans United Saves Appraisal Helps Veteran Use VA Loan Benefits
Ann Arbor, Michigan — Word that his apartment complex was raising the monthly rent was the final straw for former Army Reservist Christopher Robinson.
With that, he decided it was time to see if he could put his VA home loan benefits to good use. The summer of 2012 would become house hunting season.
"My main concern was that the house couldn't need a lot of work, be overpriced and would be close to my work," said Christopher, who enlisted at 18 and later deployed to Iraq with the 983rd Engineer Battalion out of Ohio. "I knew what I wanted, so I didn't really have to look at many houses to find it."
The Perfect Property
He settled on a recently renovated three-bedroom, one-story older home. The previous owner gutted the property and basically rebuilt it from the studs out. It was also close to his work.
"The main thing that made my decision was that the house was all redone, meaning it wouldn't need any work anytime soon," Christopher said.
Christopher knew he wanted to use his VA loan benefits to purchase the home.
The VA Loan Guaranty program allows qualified service members to purchase a home worth up to $424,100 (and more in high-cost parts of the country) without a down payment. VA loans typically feature lower rates and more buyer-friendly terms than conventional financing. These government-backed loans have helped nearly 20 million service members secure home financing since 1944.
Christopher came across Veterans United Home Loans while searching for VA loan information online. The Missouri-based company is a leader in the VA Loan industry and will finance more than $3 billion in 2012.
He filled out a form and was soon connected to Veterans United loan specialist Aimee Hall, who carefully outlined the steps of the VA loan process and what he would likely need to obtain financing.
"With the help from my loan officer Aimee Hall, her assistant loan officer Michelle Dunn and everyone else who worked on my case, I found the perfect home and at a great price."
Fight to the Finish
The process was smooth save for one hiccup. The independent, VA-appointed appraiser who evaluated the property raised an issue with a remodeling design choice by the seller.
With his home purchase in jeopardy, Veterans United employees, including staff appraisal reviewer Rebecca Raybon, and Christopher's real estate agent fought to make sure the appraisal came through.
In less than a month, Aimee called Christopher with the big news he had been waiting for: His $127,687 loan was a go.
"VA loans can be trickier to navigate, but having Veterans United's knowledge and experience in my corner made the whole process simple and painless," he said. "Everyone at Veterans United is a hard worker and puts in 110 percent."
Ready to Get Started?
or call us now to speak to a VA Loan Specialist 800-884-5560
The Nation's #1 VA Home Purchase Lender*
A VA approved lender; Not endorsed or sponsored by the Dept. of Veterans Affairs or any government agency.