Customer Profiles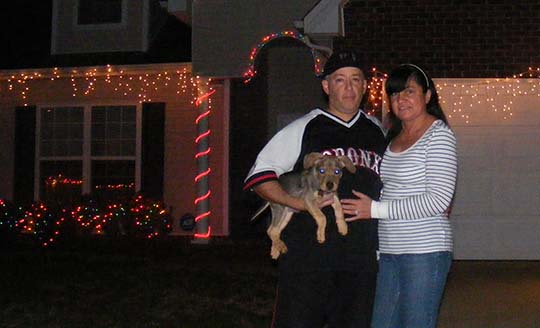 Read the story of Hector Ruiz, Veterans United Home Loans customer and first-time homebuyer.
Hector Ruiz: Veterans United Helps Veteran Get Mortgage After Change of Employment
Smyrna, Tennessee — Hector Ruiz made it a photo finish.
The maximum age for enlistment in the U.S. Army Reserves is 35 years. Ruiz was 34 and 363 days when he passed his Advanced Individual Training (AIT) at Fort Jackson in Columbia, S.C.
But it wasn't just a spur-of-the-moment decision for the New Jersey native. Although Hector needed a change of pace, his biggest motivation for joining the Reserves was honoring his father, a Vietnam veteran.
"He didn't talk much about it, but I'm very proud of him going through all that hell in Vietnam," Hector said. "He was a paratrooper, so I went through airborne school, too."
Spc. Ruiz was honorably discharged in 2005 and continued his job in IT support for the American Cancer Society. Four years later, he received an annoying phone call from a would-be prankster.
"His voice was so deep, I didn't know who was on the other end of the phone," Hector said. "He was just messing with me instead of identifying himself, so I said 'Whatever dude' and hung up."
Two weeks later, the mysterious man revealed his identity. Turns out it was an old friend and the brother of Hector's high school sweetheart Sonia, whom he had not seen in more than 20 years. A text message and a Facebook friend request later, Hector and Sonia were back in touch.
She moved back to Tennessee from Puerto Rico and the two married in July 2012.
The hunt for a home
Hector's search for a new home began while he was still in the service. But it took years for his dream of homeownership to become a reality.
Doubtful that he would even be eligible for a VA Loan, Hector did some research online, unsure where to go next in his real estate research. Before long, he was on the phone with Billy Watkins, a loan specialist at Veterans United Home Loans.
Billy assured Hector that, despite only four and a half years in the Reserves, his 18 months of active duty made him eligible for a VA Loan. Generally, military borrowers are eligible if they served 90 consecutive days active duty during war time; 181 days during peace time; or six years in the National Guard or Reserves.
Billy worked closely with Hector over the next several months, guiding him over a few speed bumps and putting him in touch with Teresa Kidd, a local real estate agent who's part of Veterans United Realty, a national network of more than 2,500 agents who work routinely with military borrowers.
The family nearly made an offer on a foreclosure, but Kidd informed them that a prior prospective buyer had dropped their contract due to a crack in the foundation. Hector and Sonia approached the next house - another foreclosure - with caution, but fell in love as soon as they walked inside.
The man upstairs
The couple soon made an offer, which the bank accepted, and the loan process moved forward.
But then Hector made a mistake all too common among first-time homebuyers: He changed jobs before the loan closed, unaware that it could delay the process or even cost him the house.
Billy walked him through the procedure in case their closing date wasn't extended. A man of faith, Hector played it cool despite the urgency.
"The man upstairs, he said it's my house." Hector said. "I knew it was going to be mine. I was never worried or scared, not once."
Billy worked with Veterans United underwriters to help satisfy questions and concerns about the job change. Their hard work eventually paid off, and the Ruiz family moved into their new home in October 2012.
Hector's only project now is to become his own "man upstairs." The house has an entire floor of unfinished attic space, where he intends to furnish a full "man cave" rec room, complete with a big-screen TV, pool table, spare bedroom and bathroom.
"I would tell my kids, I would tell anyone else - research, research, research," Hector said. "Never get married to a purchase, never get married to the first thing you see."
Even if that means making a photo finish every now and then.
Ready to Get Started?
or call us now to speak to a VA Loan Specialist 800-884-5560
The Nation's #1 VA Home Purchase Lender*
A VA approved lender; Not endorsed or sponsored by the Dept. of Veterans Affairs or any government agency.