Customer Profiles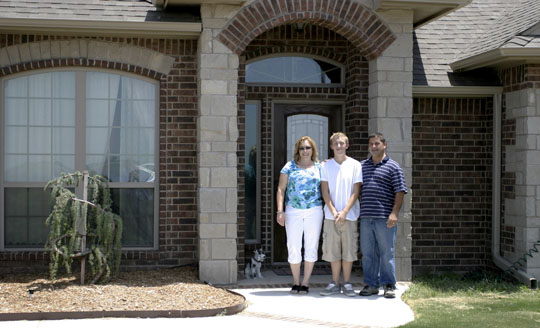 Read about Joel and Wendy Azpeitias, who met and Married at Fort Sill, Return to Oklahoma as Second-Time Homeowners
The Azbeitias Family: Military Couple Learns the VA Loan Isn't a One-Time Benefit
Lawton, Oklahoma — The Azpeitias may have started their lives 900 miles apart, but the Army brought them to Lawton to continue their lives together.
Joel Azpeitia was originally from Tampa, Fla. He joined the Army and before long found himself at Fort Sill in Lawton. While stationed at Fort Sill, Joel met Wendy, a fellow soldier, who had recently been transferred from Maryland. A friendship sparked and led them both to marriage. They soon purchased their first home using their VA home loan benefit.
After spending time at Fort Sill, the couple transferred to an Army base in Georgia. During their time in the South, Joel and Wendy owned two more homes and started their family. They are now the proud parents of Joseph, 15, and Michelle, 12. But after many years in Georgia, the Azpeitias decided that it was time to retire from the Army and move back to the place where it all began: Lawton.
A Lifetime Benefit
The family began by looking for their new Lawton home. While searching, they spoke to a real estate agent about their local lending options. The Realtor recommended Jeannette Klein, manager of the Veterans United Home Loans branch in Lawton.
Jeannette had great – and surprising – news for Joel and Wendy: VA home loans are reusable. Despite having already used one to purchase their first house in Lawton, they could definitely use the no-down payment program again.
"I didn't know that I still had VA home loan benefits to use," Joel said. "But Jeannette found that I did, and we were able to use that for our new home."
Since the Azpeitia family was moving from out of state, they weren't able to be in Lawton for the homebuying process. But that was not a problem for Jeannette and her team.
"Everything was easy over the phone and online," Joel said. "With my job, it was easier than driving back and forth each time you had to sign some paperwork."
Quick Turnaround
Joel and Wendy were on a tight deadline. Because they were selling their home in Georgia, they needed to close on their new house in Lawton as soon as possible or they would have nowhere to go. This, too, was taken care of by Veterans United Home Loans.
"Jeannette was able to cut two weeks from the process time because she knew we needed to quickly get into the home," Joel said.
The family was able to move in with as much ease as one can have when making a 1,000-mile move across the country.
"This experience was different, because Jeannette broke the process down for us. I can probably say that this was the smoothest homebuying process that we went through to purchase a home," Joel said. "I would definitely recommend Veterans United to a friend. In fact, I already have."
Ready to Get Started?
or call us now to speak to a VA Loan Specialist 800-884-5560
The Nation's #1 VA Home Purchase Lender*
A VA approved lender; Not endorsed or sponsored by the Dept. of Veterans Affairs or any government agency.