Customer Profiles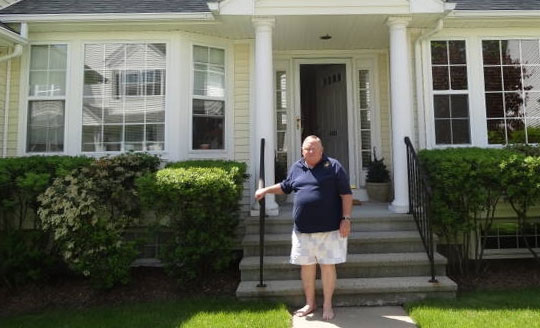 A VA cash-out refinance helps Tim Huff, Connecticut Veteran, pay off debt and find a fresh start
Tim Huff: Cash Out Refinance Helps Connecticut Veteran Pay off Debt
Stamford, Connecticut — An former Marine wounded in Vietnam, Tim Huff had been a homeowner for 40 years before learning about the VA's significant home loan benefits.
The news came just in time.
Tim bought his first home in the late 1960s, shortly after he went to work for IBM, his first and, it turned out, only job as a civilian. He had spent most of the previous decade planning for a military career. But all that changed in March 1967 when the Marine Corps captain was wounded on a patrol outside Dong Ha.
A hail of 50-caliber machine gunfire shredded his calf and broke his leg. He spent the next seven months in a New York hospital learning how to walk again and accepted a medical discharge that October.
Four months later, he was married and starting a job with one of the country's premier home-grown companies. He and his wife, Ann, rented an apartment briefly before buying a house in Valhalla, New York.
Over the next 25 years, Tim worked his way through IBM, from marketing training and sales work to executive education and telecommunications.
As their needs changed, the couple later bought a home in Armonk, New York, about 15 miles from their mutual hometown of Larchmont. Tim obtained a conventional mortgage through IBM's credit union.
He retired from IBM in 1992. The Huffs moved a bit closer to the Atlantic coastline a few years later, purchasing a condominium in nearby Stamford, Connecticut.
Flash forward to 2010 and a reeling housing market.
Tim and Ann had accrued some credit card debt and were trying to get it under control. They decided to look into refinancing their mortgage. Lenders across the country were offering record-low interest rates.
Tim went back to the IBM credit union that had financed his previous home purchases. He walked away unsatisfied with their prospective loan terms.
At this point, almost out of the blue, Tim started to wonder if there were any benefits available to him as a veteran.
Turns out there were.
Get Cash with a VA Refinance
During the course of his research he came across the website for Veterans United Home Loans, the nation's leading VA purchase lender. He filled out a simple, one-page questionnaire and was contacted moments later by loan officer Mike Mange.
Mike talked with Tim about his mortgage and credit situation, explaining the basic steps involved with the VA's cash-out refinance program.
The cash-out refinance loan allows qualified veterans — with conventional or VA loans — to refinance to a lower rate while extracting cash from their home's equity. Essentially, borrowers get a new mortgage at a value higher than what they owe and receive the difference in a cash lump.
Borrowers have traditionally used the cash to pay off high-interest debts or make home improvements.
Tim was floored by the news.
"I didn't know even know there was a VA-related program available," he said. "I didn't think I was eligible for any kind of veterans benefit."
As with a VA purchase loan, borrowers seeking a VA refinance have to go through a credit approval and underwriting process. Veterans and active duty service members who qualify can get a cash-out refinance for up to 90 percent of their home's appraised value.
Tim gathered tax returns and other pertinent financial information and passed them on to Mike. An independent, VA-appointed appraiser came out and appraised Tim's home. Veterans United loan specialists and underwriters analyzed Tim's financial information and ultimately approved a $424,100 cash-out refinance.
Tim's service-connected disability also meant the couple was exempt from paying the VA Funding Fee, a mandatory cost that helps fund the VA loan program. That alone saved them nearly $9,000 in additional costs.
'Professional, Cheerful and Encouraging'
The couple closed at the end of November 2010 and used the cash to pay off credit card debt and other obligations. Their monthly mortgage payment is now a bit higher than it was before, but they enjoy some much-needed financial breathing room.
"It was very positive in that way, to get me back on my feet and squared away," Tim said. "The ease of applying and getting approval as a veteran was far and above any other experience I've had with a credit union or anything else. Everyone was very professional, cheerful and encouraging.
"I would highly recommend that any veteran use your outfit," he added. "It was a very positive experience from the beginning to the end."
Ready to Get Started?
or call us now to speak to a VA Loan Specialist 800-884-5560
The Nation's #1 VA Home Purchase Lender*
A VA approved lender; Not endorsed or sponsored by the Dept. of Veterans Affairs or any government agency.