Customer Profiles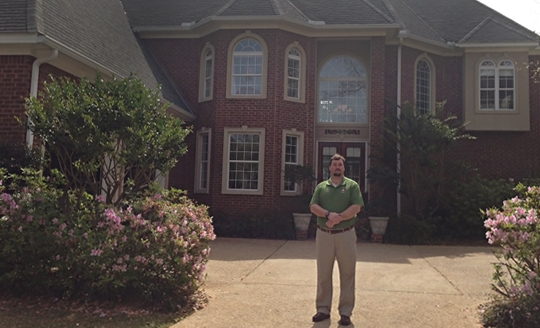 Marine Corps Veteran John Krause Secures a Home of His Own and Helps His Parents in the Process.
John Krause: VA Home Loan Helps Disabled Veteran Take Major Step Toward Starting Over
John Krause had a 5 percent chance to live.
Until July 3, 2005, the Marine had seemed all but invincible. Highly decorated and highly respected within his unit, Krause was looking forward to spending time with his family after service. He planned to start a restaurant with a friend upon returning home.
But those plans changed drastically while his unit was on leave at Laguna Beach on that July day. Krause and his buddies had been crossing a treacherous overpass on their way down to the beach. One moment, Krause was bringing up the rear, swapping jokes and jabs with his pals as they made their way to the shoreline. The next, after a single misstep, he was face down on a boulder at the bottom of a 25-foot cliff. He was transported to a nearby hospital, where his life hung in the balance.
Doctors put John's survival chances at 5 percent.
As the hours passed, that 5 percent became 10 and then 20. By the third day, John had a 40 percent chance to live. Although the odds were still short of a coin flip, his mother, Caroline, knew John had plenty of fight left.
"He was strong-willed," Caroline said. "Just by sheer will, he lasted."
Building a New Life
Survival didn't mean John would walk out of the hospital unscathed. He spent the next six weeks in a coma and underwent facial reconstructive surgery before being transported to Tampa, where he would begin a long and difficult recovery.
For the next four months, John was a shell of his former self. Friends and family who came to visit him could barely believe they were looking at the same young man they had known. Meanwhile, John's own world was no longer familiar.
"He was in a wheelchair, couldn't sit up, couldn't walk, couldn't talk, couldn't read, couldn't write, and couldn't even steer his wheelchair with one leg," Caroline said. "He had extreme violence because he didn't know who anybody was."
John remembers little of the next year and a half, a rigorous rehab period spent in his mother's closet - a makeshift hospital ward - wearing diapers and using baby walkers while his motor skills slowly recovered.
Caroline assumed the role of full-time caregiver, quitting her job to devote all her time and resources into John's recovery. She recruited a physical therapist, reading tutor, computer technician and a handful of other professionals for intense tutoring sessions in order to get his cognitive ability back on track.
"We just took it one step at a time so he could earn his dignity back," Caroline said.
After a time, John sought to earn an income as well. He found a job working as a security guard at a local variety store. Before long, he was reading again at a high school level and doing fourth-grade math.
John's condition continued to improve, but another major obstacle would befall the family before long.
Race Against Time
John's parents, Caroline and A.J. Krause, were staring down a possible short sale on their home in Alabama. For John, the recovery process needed to keep moving, but the impending foreclosure threatened to become a major setback in a journey already fraught with difficulty.
Between the medical bills, the lawsuit and the impending foreclosure, the Krauses' financial stability seemed to be collapsing all around them, the frantic search for a solution becoming more desperate every day.
The Krause family found hope in the form of the VA home loan, a benefit of John's service they had previously overlooked. This no-down payment home loan program has helped more than 20 million veterans since 1944.
Caroline began researching the VA loan program online. It wasn't long before she was in touch with Veterans United Home Loans, the nation's No. 1 dedicated VA lender.
Although John was eligible for the loan, he had no financial qualifications since the brain injury. Veterans United loan specialists Eric Barroso and Ryan Bray helped John establish some credit history using pre-paid credit cards.
With his parents' short sale three months away, John had little time to build up enough credit, get approved, secure all the paperwork and close on the home - a two-story, four-bedroom house that the Krauses like to call their "castle."
The deadline loomed, but not once was Caroline left in the dark about their progress. Bray kept her updated every step of the way.
"He was incredible," Caroline said. "We talked every single day. He knew we had a deadline, and he told me every single thing we had to do."
Three months became three weeks, and Bray kept pushing. It was a mere three days before their short sale that he called Caroline to inform her of the life-changing news: They were clear to head to closing.
"It felt like God had answered our prayers," Caroline said. "It was pretty profound. I don't even know how to describe it. To know that we had a place to go and that John had a place to go that he would be happy - it was amazing."
Ready to Get Started?
or call us now to speak to a VA Loan Specialist 800-884-5560
The Nation's #1 VA Home Purchase Lender*
A VA approved lender; Not endorsed or sponsored by the Dept. of Veterans Affairs or any government agency.